Silver Linings Playbook wins Toronto festival's top prize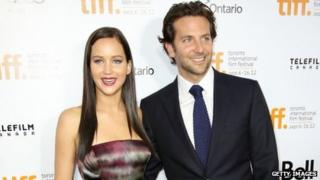 Silver Linings Playbook, starring Bradley Cooper as a man recovering from a breakdown, has won the top prize at Toronto International Film Festival.
Directed by The Fighter's David O Russell, the dramatic comedy also stars The Hunger Games' Jennifer Lawrence as Cooper's love interest.
Robert De Niro and Jacki Weaver play the parents he moves back in with after eight months in a mental institution.
Argo, directed by Ben Affleck, was the People's Choice Award runner up.
The fact-based thriller is about six Amercians stranded in Tehran after the 1979 invasion of the American Embassy, who plan to escape by masquerading as a Canadian film crew.
Both films had their world premiere at the festival, where Russell revealed that he used Skype to interview the stars of Silver Linings Playbook, based on the novel by Matthew Quick.
"Just as The Fighter to me was not about fighting, this movie to me is not about mental illness," said Russell.
"To me, it's always about the people and the dynamic of the people."
Oscar buzz is already surrounding the film, with Lawrence's performance as a widow fighting depression being touted for a best actress nomination.
Previous winners of the People's Choice award include The King's Speech and Slumdog Millionaire, which both went on to Oscar success.
'Labour of love'
This year's other Toronto winners include Seven Psychopaths, which reunites In Bruges director Martin McDonagh and Colin Farrell as a scriptwriter who falls in with criminals.
Also featuring Christopher Walken and Woody Harrelson, audiences voted it the winner of the Midnight Madness Award.
The top documentary award was won by Bartholomew Cubbins' Artifact, which follows Jared Leto and his band Thirty Seconds to Mars as they struggle to record the album This Is War while involved in a legal battle with their record label.
Actor and singer Leto thanked voters in a statement: "This film is so personal and has been such a labour of love. Thank you so much to every single person who voted."
Other films that impressed critics and audiences included Paul Thomas Anderson's The Master, starring Philip Seymour Hoffman and Joaquin Phoenix and Bill Murray's turn as Franklin D Roosevelt in Hyde Park on Hudson.
One of the industry's top festivals, Toronto often serves as a launchpad for films seeking distribution deals.
The Place Beyond the Pines, starring Ryan Gosling and directed by Derek Cianfrance, was the first major sale, picked up for a reported $2.5 million (£1.54m).
Other sales included sex addiction comedy Thanks for Sharing starring Gwyneth Paltrow, Mark Ruffalo and pop singer Pink, Imogene with Kristen Wiig and Byzantium from The Crying Game's Neil Jordan.