Roger Ebert to receive Sundance honour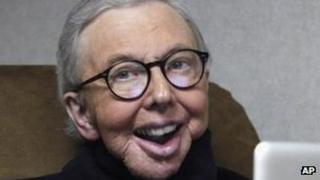 The Sundance Institute is to honour veteran film critic Roger Ebert for his support of independent cinema.
The 70-year-old, once deemed "the most powerful pundit in America", will receive the second Vanguard Leadership Award at a Sundance benefit in June.
"When I started Sundance in 1980, and when few would support us, Roger was there," said Robert Redford, president of the Sundance Institute.
The inaugural award went to Sundance trustee George Gund earlier this year.
Ebert, a Pulitzer Prize winner for criticism, has been the Chicago Sun-Times film critic since 1967.
He remains best known for his TV double act with fellow reviewer Gene Siskel, who died in 1999, which saw the pair use a "thumbs up" or "thumbs down" system to rate the films they saw.
He went on to present alongside Richard Roeper, but stood down from their joint television show after undergoing surgery for complications arising from thyroid cancer, which left him unable to speak.
He has written a number of books and was awarded a star on the Hollywood Walk of Fame in 2005.
In 2008, he became an honorary life member of the Directors Guild of America.
Here are some of his most notorious cinematic critiques:
"To call A Lot like Love dead in the water is an insult to water." (A Lot Like Love, 2005)
"Elvis looks about the same as he always has, with his chubby face, petulant scowl, and absolutely characterless features. Here is one guy the wax museums will have no trouble getting right. He sings a lot, but I won't go into that. What I will say, however, is that after two dozen movies he should have learned to talk by now." (Easy Come, Easy Go, 1967)
"A deplorable film with this message: If you're a 14-year-old girl who has been brutally raped and murdered by a serial killer, you have a lot to look forward to." (The Lovely Bones, 2009)
"I had a colonoscopy once, and they let me watch it on TV. It was more entertaining than The Brown Bunny." (The Brown Bunny, 2003)
"(Rhett Butler) tells Scarlett in a key early scene, 'You need kissing badly. That's what's wrong with you. You should be kissed, and often, and by someone who knows how.' For 'kissed,'' substitute the word you're thinking of." (Gone With The Wind, 1939)
"I've seen audits that were more thrilling." (Crocodile Dundee in Los Angeles, 2001)
"It's as goofy as a children's tale, as shallow as an old Saturday afternoon serial, as corny as Kansas in August — and a masterpiece." (Star Wars, 1977)
"It's kind of a letdown when a movie begins by redefining the nature of reality, and ends with a shoot-out." (The Matrix, 1999)