Helen Baxendale joins funny men for new comedy role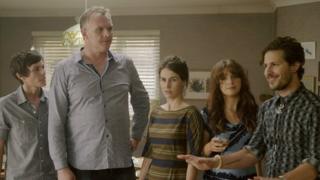 What would you do if your daughter returned from a gap year, dragging a brand new husband through the arrivals gate?
That's the premise of Cuckoo, a new six-part BBC Three comedy starring Saturday Night Live's Andy Samberg as the unwanted son-in-law, a "slacker full of outlandish, New Age ideas".
Living through every parent's worst nightmare is Helen Baxendale, best known for her roles in Cold Feet in the late 1990s and as Jennifer Aniston's love rival, Emily, in the hit US comedy, Friends.
She spoke to BBC News about showing a less serious side in her new role as Lorna Thompson - wife, mother and peacemaker.
Tell me about Lorna Thompson and her role in Cuckoo...
"Lorna is married to Ken [Greg Davies] and their daughter has gone off travelling for a year. She's a bright girl, about to go to medical school when she comes back. We go to pick her up from the airport and it turns out she's married [Cuckoo] while she's been away without telling us.
"He's this American, a bit hippy, new age idiot type, who is going to come and live with us.
"My character, her main aim in life is to make everybody feel OK, happy, to smooth things over, so I have a momentary kind of horror at what's happened, but I quickly gather myself and try to make it easy for Rachel and try to make it all right."
In the past you've played roles that are quite serious so what was it that attracted you to this?
The script was great, really funny, and the character was different to what I had done before. She's gentle but has her own mindset. She tries to make everybody feel good.
Would you describe her as quirky?
Maybe a little. A lot of the comedy comes from Cuckoo's relationship with us and how he reacts with all of the family members, the strange things he does and says and how we cope with it.
But my character's attitude is certainly more positive towards him than some of the other family members.
As Rachel's parents we try to be understanding but we're both in shock. I come round to it, but Ken takes much longer and a lot of what I do for the first few episodes is trying to smooth him into acting positively towards his new son-in-law.
Will the audience warm to Lorna?
I hope so. You just don't know. It's very hard to tell when you're in something yourself, it's hard to step back from it and to be objective but I think the whole programme is very warm and funny.
Were there any challenges working with actors as funny as Davies and Samberg?
[I've never worked with] out and out comedians before. It was very funny all of the time. [Samberg] would add stuff, and I think you just had to be really relaxed and just go with it. It was great and really a joy to do.
The last five years have seen you play a variety of stage and screen roles. Do you have a preference for one over the other?
It's less frightening to do television, theatre is very nerve-wracking, very raw. It's frightening to go onto a stage, particularly in the first few days.
It was very enjoyable to make [Cuckoo] and very relaxed on set. Andy Samberg brought something - [as did Davies] - a really different tone, which was very good fun.
Does theatre better prepare you for TV because it can be a less hostile environment, perhaps?
Everything is nerve-wracking at first. Maybe it's getting older! I don't think I used to be so nervous.
I think the key to it is relaxation so the minute you start enjoying it it's much better.
Do you enjoy comedy roles?
It depends! It depends if they're good comedy roles. I think [with] Cuckoo, the writing is different and it's really nice to come across something like that.
Do you still get recognised for Cold Feet or Friends?
It depends if there's a re-run. People's memories are quite short. Often people think they recognise me from down the shops or something.
But yes I do, mainly Friends, particularly among younger people. It's constantly rerun somewhere and young people really like watching it and it continues to be popular among new generations of watchers; it's very clever.
Would you like to be involved in a show that has the massive reach that Friends enjoyed?
No, I'm not bothered about that, thanks! Because it comes with its own problems as well as joys.
Cuckoo airs on BBC Three on Tuesday, 25 September