James Bond: How Dr No's Eunice Gayson made film history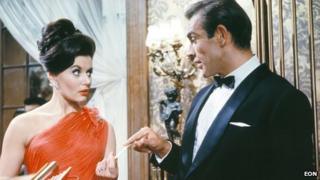 Eunice Gayson - the first "Bond girl" - reveals how she helped calm Sean Connery's nerves on Dr No.
Although she never appeared in Ian Fleming's novels, Sylvia Trench has a unique place in the history of the James Bond films.
In her off-one-shoulder red dress, the voluptuous Trench coaxes out James Bond's famous introduction in the first Bond film, Dr No.
Having lost a few hands of cards at the Le Cercle club, she suggests raising the stakes, to which Bond (his face still unseen) replies: "I admire your courage, Miss, er?"
"Trench, Sylvia Trench. I admire your luck, Mr..."
(Cut to Bond's face, lighting a cigarette) "Bond, James Bond."
The line has not just reverberated across the past 50 years of Bond films, but is indelibly ingrained within popular culture.
The film also established Sylvia Trench as the first "Bond girl".
She leads a cinematic line-up that includes Honey Ryder (Ursula Andress), Pussy Galore (Honor Blackman), Mary Goodnight (Britt Ekland), Anya Amasova (Barbara Bach), Xenia Onatopp (Famke Janssen) and Vesper Lynd (Eva Green).
Eunice Gayson, 84, the actress who played Sylvia, recalls a problematic first day of filming on Dr No in early 1962.
It began with a wardrobe disaster. Gayson arrived on the casino set in a brown and gold dress. "I was horror-struck," she says. "The set was brown and gold and I just disappeared into it."
The director, Terence Young, sent the wardrobe mistress and Gayson out to a nearby dress shop. They arrived to find it now sold wool.
"The dear old lady there said, 'I could sell you some wool and you could knit yourself a dress', but I told her we didn't have time for that.
"As we were coming out to go back to the studio to give them the bad news, we saw a red dress hanging at the back of the shop. It was a size 20 and I was a size eight. The wardrobe mistress said, 'Never mind, the colour's good against the brown - we'll take it!"
Back on set, the wardrobe mistress cut a chunk out of the fabric and Gayson played the scene with the dress held together by clothes pegs.
"They were all down the left-hand side. I had to walk very sedately so that they didn't show."
The focus now turned to Sean Connery's opening lines as 007 at the card table.
"I'd known Sean for years and I'd never seen him so nervous as he was on that day because of all these delays," recalls Gayson.
"He had to say Bond, James Bond, but he came out with other permutations like Sean Bond, James Connery. 'Cut! Cut! Cut!'
"Terence Young told me to take him away for a drink - even though he was meant to be on the wagon - so I took him off for a drink or two and he came back on set and said, 'Bond, James Bond'. It was so wonderful. The day took off from that moment - he was so relaxed."
Sylvia Trench shares another scene with Bond after he has been briefed on his mission to Jamaica and has flirted with M's secretary, Miss Moneypenny.
He arrives at his apartment to find Trench playing golf in high heels and wearing only his shirt. They kiss and he changes his need to leave "immediately" to "almost immediately".
As well as being Bond's first on-screen conquest, Sylvia Trench is the only one of Bond's girlfriends to appear in another film.
Gayson's character returned in 1963's From Russia with Love, cuddling up to 007 in a riverboat. Bond explains to Moneypenny on his in-car telephone that he has been "reviewing an old case". Once again, Bond delays his departure in order spend more time with his lover.
Gayson explains that the original idea was that Trench would be a recurring character. "The running gag was that he would always be whisked away just as we were getting to the nitty-gritty."
The idea was abandoned when Guy Hamilton took over as director on the third Bond film, Goldfinger.
Over the past month, Gayson - along with other stars of the franchise - has been on a promotional tour in the UK for the 50th anniversary release of the Bond films.
She attends Bond conventions all over the world, and confides: "I'm always amazed how much the fans spend. I get quite worried about them."
Gayson adds: "People often ask me who was my favourite Bond. Obviously my loyalty is with Sean. The British film industry was in the doldrums and Sean and James Bond pulled it up by its shoestrings.
"You know what you're going to get with Daniel Craig. He's very macho whereas Roger Moore was 'take me as you find me'. Every one of them brings their own particular quality and I think that's what's kept it fresh."
The 50th anniversary of the release of Dr No is on 5 October.