Looking back at the birth of The Beatles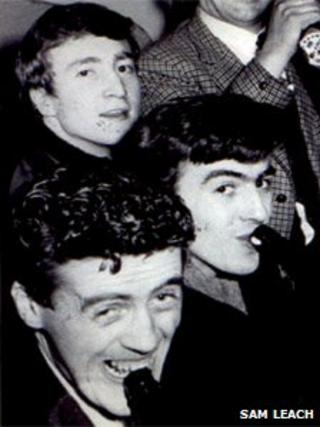 Promoter Sam Leach staged more than 40 Beatles gigs in 1961 and '62. He also wanted to manage the group - but says they chose Brian Epstein over him after a mix-up with a newspaper advert for a gig in Aldershot meant only 18 people turned up.
The band went on to take the charts by storm after releasing their debut single Love Me Do exactly 50 years ago.
"The advert didn't go in and we only got 18 people," Leach says. "On the way back the next day, The Beatles decided to go with Brian instead of me because they thought that cock-up wouldn't have happened with him.
"When we came back from Aldershot, they asked me to come down and see them. I went down to the Grapes [pub in Liverpool] and when I walked in they looked a bit sheepish.
"I knew something was wrong and they said 'Sam, we've got this millionaire who wants to manage us. I know we've got a handshake agreement with you but he's a millionaire.'
"I was a bit annoyed but they asked me to go and see Brian and give them my opinion of him. I went to see him the next day in his office and I realised he was genuine, he's got plenty of money, that that should be all they need.
"I thought I might stay in touch with The Beatles and get them to record for my record label. But on the way back to the Grapes, I thought, 'why should I tell them the truth?' I'll just say to them 'He's no good for you'.
"When I walked into the Grapes, they looked at me so trustingly that I couldn't tell a lie. I said, 'I think you'll make it with him - remember me when you're famous.'
"I've no regrets at all. I did my part. I was an important stepping stone and even in 200 years time I'll still be getting talked about thanks to the Beatles. I've been quite lucky.
"When they came back to Liverpool for the Hard Day's Night premiere [in 1964], Brian sent me three tickets and I was outside. There were a million people lining the streets and as they were getting nearer to the Odeon, where the premiere was, I could hear the roar getting louder and louder. That's when I suddenly realised just how big they'd become.
"It would have been hard to think that it would still be that big 50 years later. Even George Harrison didn't think it would last six months.
"Until they did Sgt Pepper, I wouldn't have believed it would have lasted this long. The Beatles will still be talked about in 200 years time, I'm quite sure of that. There'll never be another band like it."
On seeing The Beatles for the first time in January 1961:
"The first time I saw them, I realised how good they were. They were the best rock band on the planet at that time and I told them so. I said 'One day you'll be as big as Elvis'. John Lennon laughed and said 'We've got a right nutter here, Paul'."
On his Operation Big Beat gigs in New Brighton in November 1961:
"I got 4,100 people the first night and 4,600 the next one. They are still Beatles UK attendance records. I'm quite proud of that. They were absolutely wild. The crowd were absolutely hysterical.
"All the bands were good but The Beatles absolutely took the roof off. You only had to look at them to realise how big they were going to go. They had such charisma on stage. I'm very happy to have been part of that."
On his engagement party in March 1962:
"During the party, John was in the kitchen with this girl and he was rolling eggs down her bird's nest hairstyle and they were breaking on the floor. A dozen eggs, a total mess in the kitchen, and my mother-in-law really got angry with him and told him off.
"He apologised and she made him wipe it up. The party lasted 24 hours and as he went, he put his arms around me and said 'Sam, that was the best party I've ever been to'. And as he went away, I slipped a raw egg into his pocket."