Alec Baldwin suggested taking pay cut to save 30 Rock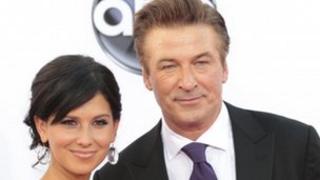 Alec Baldwin has claimed he offered to take a 20% reduction in his salary to keep US comedy 30 Rock on the air.
Baldwin, who plays head of NBC, Jack Donaghy, in the comedy show, revealed on Twitter that he made the offer "in order to have a full [seventh] and [eighth] seasons of 30 Rock". No response was forthcoming.
"I realise times have changed. I am looking forward to some time off."
NBC said in May that the seventh season would be the last for the show.
Bosses at the channel also announced that the number of episodes per season would be cut from 22 to 13.
30 Rock, created by US comedian Tina Fey, follows the daily running of the fictional comedy show TGS With Tracy Jordan.
Cult following
Inspired by Fey's time working as head writer for Saturday Night Live, it has received 90 Emmy nominations resulting in 14 wins, including best comedy series, and two awards for Baldwin.
It also won a Golden Globe for Best Television Series.
Baldwin stars alongside Fey who plays Liz Lemon, the head writer who has to deal with dysfunctional stars and a disastrous love life.
Despite enjoying a cult following ratings have tumbled since the show began six years ago.
Its peak of 7.5 million viewers in the US during 2008 and 2009 fell to 3.5 million last season, overshadowed by the success of Modern Family and Glee.
According to Forbes 2012 Celebrity 100 earnings report, Baldwin earned $15 million (£9.3 million) in the past year while Fey made $11 million (£6.7 million).
30 Rock was dropped from British terrestrial TV following its second series in 2009, after a run of poor viewing figures on Channel Five.
It has since been shown in the UK on Comedy Central.