No Doubt settle dispute over Band Hero music game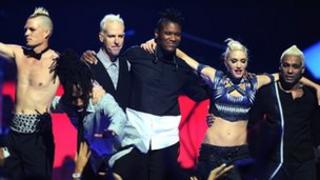 No Doubt have settled a three-year legal dispute with the makers of a music video game over their use of the band members' likenesses.
The rock band agreed to feature in Band Hero, but objected to players being allowed to use Gwen Stefani's character to perform songs by other artists.
They accused Activision of breach of contract and fraudulent inducement in documents filed in Los Angeles in 2009.
Activision Publishing Inc. had denied all wrongdoing.
Court papers show a settlement between the two parties was reached on Monday.
Band Hero, a spin-off of Guitar Hero, debuted in November 2009.
In the same month, No Doubt brought the case against gaming giant Activision, claiming the video game turned them "into a virtual karaoke circus act".
At the time, their manager, Jim Guerinot, told Rolling Stone magazine that No Doubt were "mortified" to discover their likenesses could be used to sing songs by other artists.
The band sought unspecified damages and an injunction preventing Activision from distributing the game.
They also wanted the company to recall existing copies of the game.
Activision launched a counter-suit claiming No Doubt's action was "without merit" thanks to "an agreement signed by the band after extensive negotiations with its representatives".
However, earlier this year a judge ruled that No Doubt could argue fraud, violation of publicity rights and breach of contract claims, at a trial scheduled for later this month.
The terms of the out of court settlement, reached earlier this week, have not been revealed.