Art attack: Famous works vandalised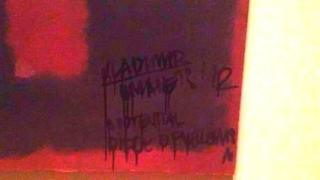 A mural by US artist Mark Rothko housed at London's Tate Modern has been vandalised by a man claiming to be commenting on contemporary art.
It is the latest act of art vandalism, stretching back to 455 AD when the Vandals invaded Rome, destroyed numerous artworks, and became forever associated with the wilful defacement of art.
Here are some other works that have been defaced in recent years.
Night Watch, Rembrandt
The Dutch master's painting - one of the most famous paintings at the Rijksmuseum in Amsterdam - has been vandalised three times.
The first attempt came in 1911, when a former navy chef attacked the piece with a knife, but failed to cut through the thick varnish.
Then in 1975, William de Rijk repeatedly slashed the painting. After claiming Jesus made him do it, the unemployed school teacher was sent to a psychiatric hospital. The painting was restored, but traces of the cuts still remain.
The work was vandalised again in 1990 when an escaped psychiatric patient sprayed it with sulphuric acid. Only the varnish was damaged after guards quickly diluted the acid with water, and the painting was restored again.
Untitled, Cy Twombly
French-Cambodian artist Rindy Sam was fined in 2007 for kissing and consequently leaving a lipstick smear on Cy Twombly's untitled triptych, which was in display at the Lambert Collection in Avignon, France.
Ms Sam told a court she was "overcome by passion" when she saw the all-white canvas worth $2.5m (£1.56m).
"I just gave it a kiss. It was an act of love when I kissed it. I wasn't thinking, I thought the artist would understand," she said at the time.
She was ordered to pay 1,500 euros (£1,200) in damages to its owner, 500 euros (£400) to the gallery and a symbolic one euro (81p) to the artist.
Charity, Damien Hirst
Last summer a 22ft (6.7m) high statue was tagged with graffiti while on display at the Royal West of England Academy of Art.
Displayed on a balcony, the 3.5-tonne, £1.5m piece was based on the "collection box girl with teddy bear and leg in callipers" image used by the disability charity formerly known as The Spastics Society.
A spraypainted signature was left on the girl's skirt by an unknown assailant.
The academy said the statue was covered by an insurance policy and that the graffiti would be cleaned off.
The Little Mermaid, Edward Eriksen
The statue of the character from Hans Christian Andersen's fairytale is a major tourist attraction in Copenhagen, Denmark.
However, after being vandalised numerous times since the 1960s, officials have considered moving it several metres offshore from the harbour protect it from the public.
It has been beheaded twice - first in 1964 and again in 1998 - with a failed attempt in 1990. The statue lost an arm in 1984, but it was returned two days later. In 2003, the mermaid was blasted off her base with explosives.
Paint has also been daubed on the figure a number of times. She was once draped in a burka and, in 2006, had a sex toy attached to her hand.
Mona Lisa, Leonardo da Vinci
Da Vinci's most famous painting is one of the best-protected artworks. But, before it was encased in bulletproof glass, the work was severely damaged in an acid attack.
A few months later, in December 1956, a man threw a rock at it, taking off some of the pigment near the figure's left elbow, but it was painted over.
Even behind its current case, a gift from Japan, the painting has been regularly attacked, although it has suffered no damage.
In 1974, a woman sprayed red paint at the artwork while it was on loan at the Tokyo National Museum, protesting its policy for not allowing disabled people into the exhibition.
Three years ago it was threatened again when a Russian woman threw a ceramic mug - bought at the Louvre's giftshop - at the painting.
Fountain, Marcel Duchamp
Frenchman Pierre Pinoncelli was handed a three-month suspended sentence and ordered to pay 214,000 euros (£173,000) after attacking Duchamp's porcelain urinal with a hammer at the Pompidou Centre in Paris in 2006.
The work was a copy of the original, which was said to be worth nearly 3m euros at the time.
Mr Pinoncelli had form - he had urinated on another version of Fountain at an exhibition in Nimes, southern France, in 1993.
The former salesman argued the attack was a work of performance art, saying he had become annoyed at how a once radical work of art had become institutionalised.
"I made it fresh and new, I created something new, of which Duchamp would have approved," he said.
The Bay, Helen Frankenthaler
The 1963 abstract painting needed restoration after a 12-year-old boy stuck a piece of chewing gum to the canvas while on display at the Detroit Institute of Arts in 2006.
The gum left a small stain but no permanent damage to the work, worth around $1.5m (£933,000).
The boy, who was visiting the gallery while on a school trip, was suspended.
Rokeby Venus, Velazquez
In 1914, suffragette Mary Richardson took a meat cleaver to the Spanish artist's 1647-1651 creation at London's National Gallery.
She slashed it seven times, although it was successfully repaired by the gallery's chief restorer.
Ms Richardson later explained her actions were in protest of the arrest of suffragette leader Emmeline Pankhurst the previous day.
"I have tried to destroy the picture of the most beautiful woman in mythological history as a protest against the government for destroying Mrs Pankhurst, who is the most beautiful character in modern history," she said in a press statement.
She later gave an interview saying she hated the way the image of the naked Venus was gaped at by men all day.
Various, Banksy
Raising the question of whether it is possible to vandalise graffiti, numerous works by Banksy have been "defaced" or destroyed.
Several of the prolific street artist's "installations" have been painted over by council workers or building owners, many of whom were unaware the graffiti was worth thousands of pounds.
Most recently, a Banksy artwork in Bristol was painted black last October in an incident described by residents as an "act of vandalism".
An image of a gorilla in a pink face mask, also in Bristol, was whitewashed by the building's owner, who said he had never heard of the artist.
The artwork has now been partially restored.