Lois Smith, celebrity publicist, dies at 85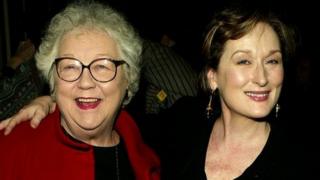 'Publicist to the stars' Lois Smith, whose celebrity clients included Marilyn Monroe, Meryl Streep and Martin Scorsese, has died aged 85.
She suffered a brain haemorrhage after falling while on holiday.
Smith is survived by her husband and three of her children, including former Grey's Anatomy star Brooke Smith.
Her death was confirmed by Cindi Berger, the CEO of New York publicity firm PMK BNC, formed when Smith's company merged with several others.
Berger called Smith a "trailblazer" in the publicity field who "loved her clients and guided them with strong and steady hands".
Other famous faces Smith represented during her decades in the business include Robert Redford, Warren Beatty, Susan Sarandon and Whitney Houston.
It is reported she tripped down a set of stairs at a bed-and-breakfast in Maine, where she was staying with her husband Eugene Smith.
Actress Marlee Matlin, who won an Oscar for her film debut in Children of a Lesser God and starred as Joey Lucas for seven series of The West Wing, paid tribute to her former mentor on Twitter.
Matlin wrote: "So sad to read about passing of publicist & friend Lois Smith. She helped guide me when I did (1986 movie) Children Of A Lesser God. I will miss her. RIP.
"She really set me on the right track when I was so new," she added.
Smith was awarded the Lifetime Achievement Award by the Publicists Guild in 2003.
At the time her client and friend, director Scorsese said: "Lois stands out as a beacon in the industry. What matters to her is the art as it should be."
Smith, who had retired, previously spoke out against today's celebrity culture, revealing during an interview in 2010 that she was "so glad" not to be in the business now.
"Between celebrity magazines and websites, there's so much out there to be filled up, so much information that has to be put out there simply because those publications exist," said Smith.
"People are desperate to fill the space they've got; they'll print anything, go with anything, pursue rumours, and even create them. It's not what I call publicity."