Hobbit premiere to take place in 'Middle Earth'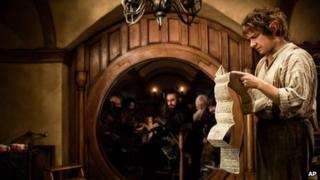 Next month's world premiere of The Hobbit will see New Zealand's capital Wellington renamed Middle Earth, after the film's fictional setting.
The city will spend 1.1 million New Zealand dollars (£557,800) preparing for the event on 28 November.
The film is the first in a trilogy, with director Peter Jackson returning to JRR Tolkien's novels after his hit adaptations of Lord Of The Rings.
Jackson lives in Wellington and filming took place throughout New Zealand.
Other plans for the premiere at the Embassy Theatre include a red carpet stretching 500 yards through the city centre, Hobbit artwork and an artisan festival.
The first of the trilogy, which stars British actors Martin Freeman and Sir Ian McKellen, is subtitled An Unexpected Journey.
Wellington Mayor Celia Wade-Brown revealed that the city will be officially renamed "The Middle of Middle Earth" for three weeks around the premiere, to reflect its position at the heart of New Zealand's film industry, which now employs more than 3,000 people.
The new name will be reflected on postmarks on letters and the main local newspaper as the city "has been integral in bringing the fantasy world of JRR Tolkien to life on the big screen".
Jackson said he was "thrilled" about the plans.
"Nowhere else in the world does a premiere quite like Wellington, and I'm very grateful for the support of the Mayor, the Council and all Wellingtonians," he added.
"It's special showing any film to an audience for the first time, but even more so when it's in your home town."
The Hobbit: An Unexpected Journey is due for world-wide release on 14 December, with second film The Hobbit: The Desolation of Smaug due in December 2013.
The final instalment The Hobbit: There and Back Again is expected to be released around July 2014.