Debbie Reynolds taken to hospital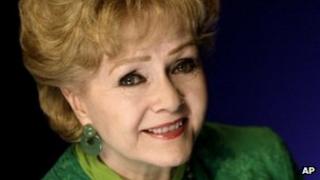 Hollywood actress Debbie Reynolds has been treated in hospital in Los Angeles following a bad reaction to medication.
The Singin' in the Rain star, 80, was rushed to Cedars-Sinai hospital over the weekend.
"Ms Reynolds had an adverse reaction to some medicine and is on the mend," said a statement from the the star's manager, Milt Suchin.
He added that she was expected to be released later this week.
The actress and singer is reported to have called off a number of engagements in California and Nevada in the run up to Christmas. However, Mr Suchin said not all Reynold's appearances would be cancelled.
"We are taking a wait and see position regarding future personal appearances and will abide by the doctor's advice," he told Entertainment Weekly.
"It's too soon to make a decision right now. But the prognosis is excellent," he said.
Reynolds, whose daughter is Star Wars actress Carrie Fisher, made her screen debut in 1948.
She was thrust into the limelight with her starring role in Singin' in the Rain, opposite Gene Kelly, in 1951, and went on to feature in a string of films across the 1950s and '60s.
In 1969, she fronted her own television show, The Debbie Reynolds Show, and continues to make guest appearances in movies and TV shows.
She had a recurring guest appearance in Will & Grace, as Grace's mother, Bobbi Adler. More recently, she starred alongside Katherine Heigl in the 2012 film One For The Money.