Michael Bolton to play himself in TV comedy series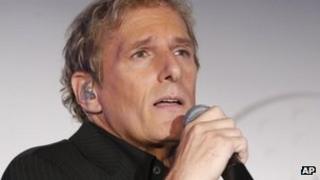 Singer Michael Bolton is to get his own television comedy series.
The 59-year-old, who recently starred in Two and a Half Men, plays himself in a show entitled Michael Bolton's Daughter Is Destroying My Life.
It is based on an idea by Terra Nova actress Allison Miller and her early celebrity encounters in Hollywood, industry website Deadline reports.
It marks a return to ABC for Bolton, who appeared on the network in reality show Dancing With The Stars in 2010.
30 Rock screenwriter Tami Sagher will write the comedy, which tells the story of a young writer who moves to Hollywood and takes a job looking after social media for Bolton, while contending with the singer and the wayward daughter he has recently taken in.
Miller, who stars in NBC's Go On with Matthew Perry, is not currently scheduled to star in the show, but will produce.
Grammy-winning singer Bolton has carved out a cult following with his performance in the spoof Saturday Night Live video, Captain Jack Sparrow, in which Bolton appears in the guise of a variety of well-known film characters including the Pirates of the Caribbean character, Forrest Gump and Erin Brockovich.