Elvis Presley's LA home for sale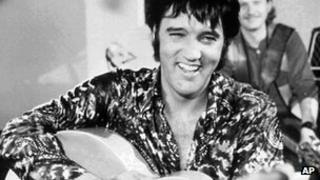 The former Beverly Hills home of Elvis Presley has been put up for sale for $13 million (£8.1m).
The singer lived in the four-bedroom, five-bathroom French regency-styled house with his then-wife, Priscilla, until they divorced in 1973.
Like the singer's Graceland home in Memphis, Tennessee, Elvis fans have flocked to visit the Los Angeles property for years.
The entry gate is still covered with handwritten tributes from fans.
Built in 1958, it was until recently leased out for $25,000 (£15,500) a month.
According to an estate agent's website, the house sits on 1.2 acres (4,800 sq m) of land "overlooking spectacular panoramic city-to-ocean views".
It also boasts a pool and spa, floor-to-ceiling windows, glass walls and an attached guesthouse.
Elvis Presley Enterprises said the singer first rented the house before he and Priscilla bought it in 1967. It was then sold in 1973 after the couple divorced.
Presley died in August 1977 at the age of 42. This year, to mark the 35th anniversary of his death, more than 75,000 fans held a candle-lit vigil outside the gated complex, where they were joined by Priscilla and daughter Lisa-Marie.