Frankie Boyle sues Mirror over 'racism' claim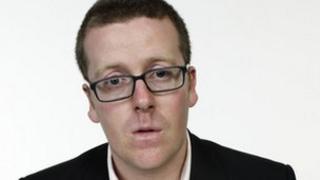 Comedian Frankie Boyle is suing the Mirror newspaper for libel, over an article which labelled him racist.
He is complaining about a story published on 19 July 2011, saying he was in talks for a new Channel 4 show.
The first sentence read: "RACIST comedian Frankie Boyle could soon be returning to TV despite upsetting thousands of viewers".
The Mirror said it will defend itself "on the basis of truth and fair comment".
The trial, which is taking place at the High Court in London, is expected to last a week.
Boyle's lawyer told the court that the newspaper had also defamed his client, by asserting he had been "forced to quit" the BBC comedy show Mock The Week.
His barrister, David Sherborne, said that to call someone "racist" was "obviously defamatory".
Mr Sherborne said Boyle's humour was "deliberately challenging".
Controversial humour
He said the comic did not object to being criticised but did object to being described as racist.
"Saying 'vile' or 'offensive', or his material is 'vile' or 'offensive', is one thing," Mr Sherborne told the jury.
"He realises that that goes with the territory, so to speak. But accusing him of being a racist is an entirely different matter."
Mr Sherborne added: "You can call him 'offensive', you can call him 'tasteless'. That's fine. But he is not racist."
The Glasgow-born comedian's humour has often proved controversial with audiences.
Last year, broadcasting watchdog Ofcom upheld more than 500 complaints about his Channel 4 show Tramadol nights, during which he joked about Katie Price's disabled son, Harvey.
Ofcom ruled that the joke appeared to "target and mock the mental and physical disabilities" of the then eight year-old.
In 2008, the BBC apologised when Boyle made a joke about Palestine on the Radio 4 comedy show Political Animal.
Break from Twitter
A year after that, BBC Two's Mock The Week was criticised by the BBC Trust over comments Boyle made on the show about swimmer Rebecca Adlington's appearance.
As yet, The Mirror has not removed the article about Boyle from its website.
A paragraph added to the top of the story reads: "Frankie Boyle is taking legal proceedings against us for the description of him as a 'racist comedian'. He claims it is untrue and defamatory. We are defending this claim on the basis of truth and fair comment.
"We are also defending his claim that we libelled him by suggesting that 'he was forced to quit Mock the Week' in 2009."
Boyle's lawyer said any suggestion his client was forced to leave the show was "completely untrue".
Boyle has taken a temporary respite from Twitter, telling his followers: "I'm afraid I must disappear from Twitter for a while. See you on the other side of this thing."