Paranormal Activity 4 chills audiences at US box office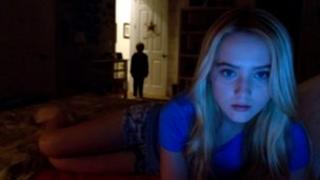 The fourth instalment in the Paranormal Activity franchise has taken the top spot at the North American box office ahead of Halloween.
Paranormal Activity 4 earned $30.2m (£19m) in its opening weekend, according to studio estimates.
Ben Affleck's political thriller, Argo made $16.6m (£10m) to hold on to second place, while animated comedy Hotel Transylvania moved up to third.
In fourth place, last week's top earner, Taken 2 made just $13.4m (£8m).
This weekend's other new wide release, crime thriller Alex Cross, starring Tyler Perry as the popular James Patterson detective character, earned $11.8 ($7m) to scrape into fifth place.
While Paranormal Activity 4 managed to take the number one spot in North America and Canada, it is still a big drop from the $40m (£25m) and $50m (£31m) opening weekends of the previous instalments in the fright film franchise.
Overseas, the low budget horror had a good start with $26.5m (£16.5m) in 33 countries, giving it a worldwide total of $56.7m (£35.3m).
"Balanced lineup"
Overall, Hollywood film revenues continued to rise after a late-summer slump.
For a fourth weekend in a row domestic US revenues increased, totalling $131 million on Sunday - up 8% from the same weekend a year ago.
According to box office tracker, Hollywood.com, films such as Argo, Hotel Transylvania and Taken 2 have enjoyed strong runs lasting several weeks.
"Last year, the box office was so top-heavy with Paranormal Activity 3, and the rest of the films really under performed," said analyst Paul Dergarabedian.
"This year, we have a much more balanced lineup."
Elsewhere in the chart, another horror movie, Sinister, dropped to sixth place, taking in $9m ($5.6m) in ticket sales.
Here Comes the Boom, a comedy starring Kevin James as a high school teacher who looks to become a mixed martial arts fighter to raise money for his school, followed in seventh place with $8.5 million.
At number eight, musical-comedy Pitch Perfect earned $7 million.
Rounding out the top ten were Frankenweenie, Tim Burton's latest effort with $4.4 million, and Looper, starring Bruce Willis and Joseph Gordon-Levitt, which earned $4.2 million.