Muse, Pulp and Blur win Q Awards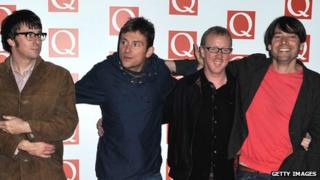 Britpop bands Pulp and Blur won major prizes at this year's Q Awards, while Muse were named best act in the world.
Blur took the trophy for best live act, in the wake of their Hyde Park gig at the close of the Olympics, beating the likes of The Stone Roses and Radiohead.
Dance act Underworld, who put together the music for the London 2012 Games, also received the Innovation In Sound award from director Danny Boyle.
Meanwhile, Jarvis Cocker picked up the Inspiration Award for his band Pulp.
"It's been the most incredible year for British music," said Q Magazine's editor Andrew Harrison.
"Our bands and our anthems transformed the Olympics... and amazing comeback shows from Blur and the Stone Roses showed the enduring appeal of our best-loved musicians."
Other prizes went to soul singer Emeli Sande, who was named best solo artist, beating perennial Q cover stars such as Noel Gallagher and Adele. Sande performed at both the opening and closing ceremonies for the 2012 Games.
"It feels great," she told the BBC. "Q has supported me from the very beginning, so it feels really nice to get this type of acknowledgement".
The singer said she had been approached to lend her writing talents "to some really cool people" since her album, Our Version Of Events, went to number one earlier this year.
"I don't know if I'm allowed to say who at the moment, but I have written on the new Alicia Keys album".
Classic tracks
Plan B's scathing attack on the British Government, Ill Manors, won track of the year, while veteran soul singer Bobby Womack took home a prize for his latest album, The Bravest Man In The Universe.
The best new act category contained three nominees for the forthcoming Mercury Prize - Alt J, Lianne La Havas and Django Django, and was won by the latter, a four-piece art-rock outfit formed at Edinburgh University.
Speaking at the event in London, singer Vincent Neff told the BBC that "to be considered the best by a magazine I've read since I was a teenager is surreal".
He added the band's award would go "in our studio above our record player. It'll sit there and greet us every time we come in the room."
The afternoon's hoard of trophies was distributed amongst Come On Eileen hitmakers Dexys (Q Icon Award), former Smiths guitarist Johnny Marr (Q Hero) and rock group The Cribs (Spirit of Independence award), among others.
Dexys received their award from US R&B singer Geno Washington, the inspiration for their song Geno.
He told the BBC: "When I first heard it, my wife said I should sue them. But I loved it.
"I laughed so hard I had tears rolling down my face."
The Manic Street Preachers' debut, Generation Terrorists, won the classic album prize, while Dionne Warwick's seminal interpretation of David and Bacharach's Walk On By was crowned Q Classic Song.
Warwick revealed she had been "in the room" when Hal David and Burt Bacharach wrote it.
"What does it mean to me?" she said. "It means what it says [on the trophy]. It's a classic. It's very dear to my heart."
The veteran soul singer was presented her golden, Q-shaped award by Charlatans frontman Tim Burgess, who wrote a three page eulogy to the song.
"I was actually in a Sunday School disco when I first heard it," he said. "I was a punk and it was the Stranglers' version that got me into it. Obviously, I realised later in life that Dionne did a much better, soulful version of the song.
"I bought all her albums, she's a big influence. Heartbreaking songs and wonderful lyrics by Hal David."
As he won the Q Idol award, The Killers' frontman Brandon Flowers joked: "I am an American Idol, it's official".
And he insisted that being recognised separately from his bandmates would not cause tension.
"It's just a common thing, I guess, for the singer to get a little bit more attention."
Full list of winners
Best new act - Django Django
Best track - Plan B, Ill Manors
Best album - Bobby Womack, The Bravest Man In The Universe
Best live Act - Blur
Best video - Keane, Disconnected
Best solo artist - Emeli Sande
Best act in the world today - Muse
Q classic song - Dionne Warwick, Walk On By
Q spirit of independence - The Cribs
Q innovation in sound - Underworld
Q inspiration award - Pulp
Q icon award - Dexys
Q classic album - Manic Street Preachers, Generation Terrorists
Q hero - Johnny Marr
Q idol - Brandon Flowers