Madagascar 3 steals UK box office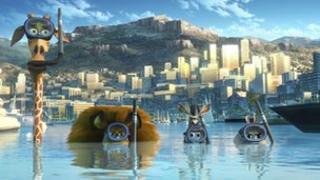 Madagascar 3 has gone straight to the top of the UK box office, earning £6 million in its opening weekend.
The 3D computer-animated comedy beat supernatural horror sequel Paranormal Activity 4 which debuted with £2.5m in ticket sales.
Last week's chart-topper, Taken 2 dropped to number three with £2.3m, while Hotel Transylvania took £1m to take fourth place.
Total earnings for the top 15 films was £15.2m, a 56% rise on last weekend.
Rounding out the top five was the science-fiction action Looper, starring Bruce Willis and Emily Blunt.
There were four new releases in this week's top 15 chart.
The critically acclaimed Beasts of the Southern Wild, starring five-year-old Quvenzhane Wallis, was the most impressive performer with £182,000 in box office receipts despite showing at just 28 theatres.
With average ticket sales of £6,493 per screening, it entered at number nine.
Bollywood movie Student Of The Year debuted in 11th place earning £131,000 across 57 locations - an average of £2,300 per screening.
Elsewhere in the chart, Tim Burton's Frankenweenie, which opened the BFI London Film Festival last week was ranked sixth with £741,683, while Ethan Hawke horror film Sinister followed with £711,918 in ticket sales.
At number eight, Harry Potter star Emma Watson's The Perks of Being a Wallflower made just £213,091 in its third week of release.
Completing the top 10 was Disney's Brave which took in £176,827, bringing its total earnings to just under £22m after 12 weeks on the chart.
Madagascar 3: Europe's Most Wanted is the latest in the Madagascar animated series, featuring the voices of Ben Stiller, Chris Rock and Jada Pinkett Smith.
The series has been a consistent earner for Paramount films with the first two films in the franchise going on to take more than £20 million each at the UK box office.