Rolling Stones: What is a fair price for a concert ticket?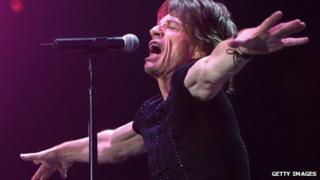 The cheapest ticket to see The Rolling Stones on their 2012 tour is £106, including booking fee. Is that a fair price to pay? We ask their fellow musicians.
"The most overpriced gig ever," declared Fox News. "Fans are fuming," said the Huffington Post. "Mick will be rolling in money," opined the Belfast Telegraph.
Why? Because the cheapest ticket to see The Rolling Stones at the O2 arena in London next month is £106. If you want Mick and Keith to be anything more than spindly stick figures in the distance, prices go to £406.
And a VIP hospitality ticket, which guarantees a place inside the terrifyingly-named "tongue pit" at the edge of the stage, is £1,140.
Fans of the band aren't happy.
"I was on the net before 9:00 and the cheapest tickets were £326," Ross Hatt told the BBC. "I couldn't pay that amount. Am gutted!"
"For that kind of money, they'd better let me play the drums," joked US radio presenter Richard Dixon on Twitter.
Perhaps as a result, 350 tickets for a Paris warm-up show were released for just £12 - but in general, seeing the Stones is an expensive endeavour.
So what do fellow musicians make of it all? Are they envious the veteran rockers can command such high prices? And would they follow suit, if they could?
Opinion is divided.
"Haven't they got enough money already?" asks Tom Chaplin from Keane, whose current tour is priced between £31 and £52.
"It's exclusive, that's the problem. It doesn't open their music to young kids coming along, which is a shame really. It'll be just a bunch of people in suits."
But James Dean Bradfield of Welsh rockers The Manic Street Preachers says the Stones have earned the right to charge what they like.
"They're above and beyond reproach," he tells the BBC.
"They exist in absolute isolation from everybody else. It's impossible to judge them and it's impossible to take any standards off them. They really are an institution, not even in the bad sense of that word. They just are what they are."
Alice Cooper agrees. "For the Stones, I would pay anything," he says. "You know, they're the Stones."
The US star is bringing his "Hallowe'en Night Of Fear" to Wembley Arena this weekend. Although his shows traditionally feature lavish props - from guillotines to a two storey-high Frankenstein's monster - he is charging fans a relatively low £42. Not that he's aware.
"I don't even know what our tickets go for, to be honest with you," he laughs. "I don't get into that at all. I'm sure they're a lot cheaper than the Stones, though."
Production costs
Ticket prices have soared over the last decade as revenues from recorded music have gone down.
According to Forbes, almost all of the top 25 highest-paid musicians in 2011 made the bulk of their money from touring.
At the top of the pile were U2, who sold more than $700m (£437m) worth of tickets over their two-year 360 world tour, the most lucrative series of concerts in history.
However, the magazine noted that some tours were more profitable than others. Lady Gaga had similar box office figures to Elton John - but the costs of her elaborate production, from back-up dancers to elaborate costumes and hydraulic puppets, ate into her profits significantly.
The result of this wilful extravagance? The impoverished Gaga made "just" $90m in 2011, said Forbes, compared to Sir Elton's $100m.
But the economics of touring are complex. Many big acts do not break even until they have been on the road for weeks, or even months. Production costs range from hiring trucks, pyrotechnics and video screens to catering expenses, hotel rooms and insurance.
Even when acts secure sponsorship from big-name brands, some of those costs are inevitably passed on to the fan.
Interstellar sci-fi rock band Muse have become known for their ambitious stage shows - lead singer Matt Bellamy has a long-gestating plan to land a UFO during one of their stadium gigs - but they insist they try to keep ticket prices down.
"We don't always break even, to be honest," says bassist Chris Wolstenholme, who is charging between £33 and £65 at London's O2 arena this week.
"You want to make some money but at the same time the most important thing is to go out and play live. We probably could make a lot more, if we went out with no production and charged ridiculous ticket prices. But it's not all about that.
"We've tried to keep the prices as low as we possibly can. Maybe some other bands should try and do the same, but it's a difficult one."
What's a reasonable price, then? For some, it's a question of scale.
"If we play a show in London, £10 or £15 seems fair," says Joe Newman of up-and-coming art-rock outfit Alt-J, favourites for this year's Mercury Prize.
Tim Burgess of The Charlatans says he regularly pays "about two quid" to see new bands play at local club nights, while Alice Cooper admits the most he ever paid for a concert ticket was "a whopping five dollars".
And who did he go to see? The Rolling Stones, in Phoenix, Arizona, circa 1965.
"That was like two weeks of gas for my car, but it was worth it," he recalls. "It was Brian Jones, Bill Wyman, the original Rolling Stones."
These days, of course, he would be put straight onto the guest list - which might explain why veteran rockers consistently set prices that seem unconnected from the real world - they never have to pay them.
So, what does Sir Mick reckon about this fuss over his £400 tickets?
"Well, I know it's a lot, really," he tells BBC Radio 4's Front Row, in an interview to be broadcast next month. "But there seems to be a demand and that's good.
"I'm not going to get into it any further."