Jez Butterworth defends on-the-day ticket policy for The River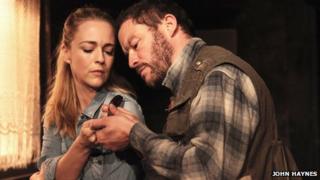 Jez Butterworth has defended the decision to sell tickets for his new play only on the day of the performance.
His new work, The River, opens at London's Royal Court theatre on Friday night.
Critics have said the unusual ticketing system could encourage touting and excludes those outside London.
But the playwright told the BBC Radio 4's Front Row it would help to bring new audiences to the theatre.
Playing in the Court's small 90-seat upstairs theatre, The River stars Dominic West, Miranda Raison and Laura Donnelly.
No seats are sold in advance. An allocation go on sale online at 09:00 BST each day, with the rest available only in person at the box office.
"I can only apologise that it's hard to get to see, but at the same time we've done everything we can to make it possible to see," Butterworth told Front Row's Mark Lawson.
He pointed out that the next production in the upstairs theatre, Hero by EV Crowe, is already sold out in advance.
"By putting the tickets on sale every day we are giving people a chance to come and see this show rather than no chance to see it," Butterworth said.
"We will not be sold out on the last night. We will not be sold out in a week's time. You can buy tickets every single day.
"Last night I was talking to a whole group of people who had never been to the Royal Court before, and they hadn't seen Jerusalem. We're bringing people to the Royal Court Theatre who otherwise wouldn't come - I think that's great."
The play's director Ian Rickson added: "Maybe it's not the best plan in the world, but it does mean you can buy a ticket tomorrow."
The River is Butterworth's first return to the Royal Court since the success of his award-winning play, Jerusalem.
Also directed by Rickson, Jerusalem opened at the Royal Court in 2009 and went on to have two record-breaking runs in the West End, as well as transferring to Broadway.
When The River was first announced in June, a Royal Court spokesperson said they expected a "huge demand" for seats. The smaller auditorium was said to better suit the play's "intimate" feel.
The plays runs until 17 November.
The full interview with Jez Butterworth can be heard on BBC Front Row at 19:15 BST on 26 October.