Curious Incident play transfers to London's West End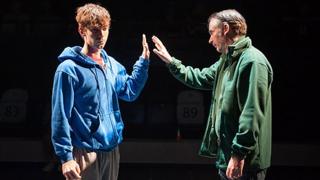 The National Theatre's critically-acclaimed staging of The Curious Incident of the Dog in the Night-Time is transferring to the West End.
Following its sell-out run at the National's Cottesloe Theatre it will open at the Apollo Theatre next March.
Luke Treadaway will once again play 15-year-old Christopher Boone, a maths genius with Asperger's Syndrome.
The play is based on the award-winning book by Mark Haddon.
It won the Whitbread book of the year in 2004 and has been embraced by both adult and child readers.
The book and play centre on Christopher and how he sets out to solve the mystery of the grisly death of his neighbour's dog.
Although a mathematical prodigy, his form of autism means he struggles with everyday situations.
The West End production will open on 1 March and is scheduled to run until 25 May. Tickets go on general sale on 23 November.
The show also stars Niamh Cusack, Matthew Barker and Sophie Duval.