Library closures may be unlawful, MPs warn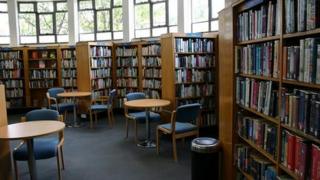 Councils that cut library services are at risk of failing in their legal duty to provide a "comprehensive and efficient" service, MPs have warned.
A report by the Culture, Media and Sport Select Committee said some local authorities had made insufficient plans as they struggled with smaller budgets.
It added that councils were unaware of the requirements on them under the Public Libraries and Museums Act 1964.
The committee urged better government guidance to avoid costly reviews.
About 600 libraries across England have reportedly closed as councils face cuts in income. However the report denied the figure, quoting Culture Minister Ed Vaizey as saying the estimate was "very wide of the mark" and that a "truer picture would be about a 10th of that".
Other libraries affected by the cuts have reduced opening hours, cut staff or transferred the running of libraries to volunteers.
The most widely reported closures include six out of 12 libraries in the London Borough of Brent, five out of 11 on the Isle of Wight and nine out of 24 in Dorset.
However, the report said, "a number of library authorities" - including Gloucestershire and Somerset County Councils - had been forced to revisit their plans for cuts after campaign groups forced judicial reviews.
"At the moment councils appear to be somewhat in the dark about what is expected of them and are making decisions which are being overturned by judicial review," Conservative MP and committee chairman, John Whittingdale, said.
"This is an expensive, undemocratic and generally unsatisfactory way of making policy. Councils need to be given the support and advice they need to consult locally and develop a service that meets the needs of the local community and complies with their obligations."
'Closures by stealth'
The committee also praised councils who had shown "innovative thinking" about library services and different ways of providing them, including co-operation between library authorities and partnerships with other public and private bodies.
But it warned that services which had been taken over by community volunteers must continue to be given support or "they may well wither on the vine and therefore be viewed as closures by stealth".
"It is obvious from widespread recent campaigns and evidence to this inquiry how strongly attached many people feel to public libraries, which are a vital and much-loved service," Mr Whittingdale said.
"However, library services are about much more than buildings, and the most important issue is finding creative ways to preserve - and, if possible, enhance - library service."
Another report on the cumulative effect of library service cuts and alternative solutions is due by the end of 2014.
Campaign group Voices for the Library (VFTL) said it welcomed the report and agreed with a number of the committee's recommendations including providing more guidance for local authorities.
"VFTL believe that many of the cuts already made could and should have been avoided had the secretary of state acted competently and provided the appropriate level of guidance and oversight to local authorities as they were forced to implement quick and drastic cuts to their services," it said in a statement.
But it added that it had "grave concerns this report will receive the proper attention it requires from DCMS [Department for Culture Media and Sport], and that the organisations with responsibilities for public library provision and oversight lack the resources required to do so effectively".