Dame Judi among veteran stars leading indie film nominees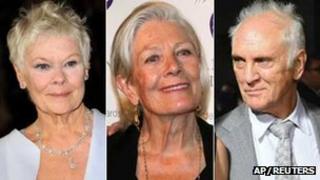 Dame Judi Dench, Vanessa Redgrave and Terence Stamp are among the veteran stars leading the nominations at this year's British Independent Film Awards.
Stamp, 74, and Redgrave, 75, are cited for Song for Marion, in which they play members of an amateur choir.
Dame Judi, 77, is nominated for The Best Exotic Marigold Hotel, as is her co-star Dame Maggie Smith, also 77.
Broken, starring Tim Roth and Cillian Murphy, has nine nominations for the awards, which are on 9 December.
The domestic drama received nine nominations in eight categories.
The Hobbit actor James Nesbitt, 47, will host this year's ceremony, which honours British films that have been mainly made outside major studios.
Dark comedy Sightseers is up for seven awards, as is the art-house horror movie Berberian Sound Studio.
Other acting nominees include Meryl Streep, recognised again for her Oscar-winning role as Margaret Thatcher in The Iron Lady.
There is also consideration for last year's best actress winner Olivia Colman, in contention again for her supporting role in period piece Hyde Park on Hudson.
Ben Drew, aka rapper Plan B, receives a nomination for best debut director on the strength of his first film, the urban drama Ill Manors.
In the best international independent film category, Palme d'Or winner Amour (Love) is shortlisted alongside potential Oscar candidate Beasts of the Southern Wild.
Last year's event saw the hard-hitting Tyrannosaur named best British independent film, with additional awards going to Colman and its debutant director Paddy Considine.
Michael Fassbender won best actor for his sex addict role in Shame, while Redgrave was named best supporting actress for her role in Ralph Fiennes's film of Shakespeare's Coriolanus.