Marines miss London speed march record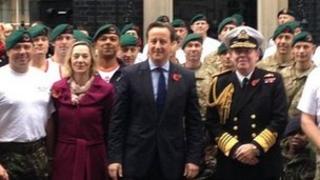 A team of Royal Marines has missed out on setting a new world speed march record by two minutes and 13 seconds.
The soldiers completed the 26.5-mile London course but crossed the line in Pall Mall outside of the four hours and 19 minutes required to take the record.
Prime Minister David Cameron carried out a formal inspection outside 10 Downing Street ahead of the challenge.
After finishing the gruelling march the team laid a wreath at the Royal Marines memorial in The Mall.
The Marines were given a rousing send off just after 10:00 GMT with a rendition of Jerusalem by the Military Wives Choir.
Wearing 40lbs of kit and carrying a weapon, their route took in some of London's most famous landmarks including the Houses of Parliament, Marble Arch, Piccadilly Circus and Buckingham Palace.
Meanwhile a second team of veteran Royal Marines completed a 16-mile charity run to signal the start of celebrations marking the 350th anniversary, in 2014, of the foundation of the Royal Marines.
Their route took them past the City of London and east to the Queen Elizabeth Olympic Park.
It is hoped the anniversary run and the record attempt will raise £50,000 which will go to the Royal Marines Association and Commando 999.