Star Wars job goes to Toy Story 3 writer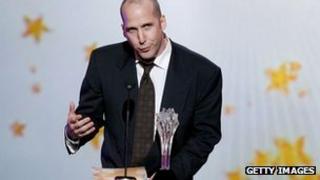 Hollywood scribe Michael Arndt will write the next instalment in the Star Wars series, Lucasfilm has confirmed.
Arndt won an Oscar for best original screenplay for the 2006 comedy Little Miss Sunshine. His screenplay for Toy Story 3 was nominated for best adapted screenplay in 2010.
He has also co-written the second film in the Hunger Games trilogy.
According to the Hollywod Reporter, the latest Star Wars story will focus on a new generation of heroes.
However, there could be appearances by actors Mark Hamill and Carrie Fisher in older incarnations of their characters - Luke Skywalker and Princess Leia - from the original Star Wars trilogy.
Harrison Ford, who played space smuggler Han Solo, is also reported to be interested in reprising his role.
Ford's Hollywood star rose with his appearances in the three Star Wars film, which he followed up with his role as archaeologist adventurer Indiana Jones and films including with The Fugitive and his Oscar-nominated turn in Witness.
Hamill is an in-demand voice actor and Fisher, who struggled with drug addictions throughout the 1970s, is a successful novelist and screenwriter.
In October, it was announced that Disney had bought George Lucas's Lucasfilms company for a reported $4.05 billion (£2.5bn) and was committed to producing three new films.
George Lucas and Kathleen Kennedy will produce the films but have yet to hire a director for the project.
Pixar alumnus Brad Bird has been touted in the movie press as has British director of Kick-Ass, Matthew Vaughn.
Star Wars: Episode 7, the next film in the franchise is due to be released in 2015.