Henry Colman, Love Boat producer, dies aged 89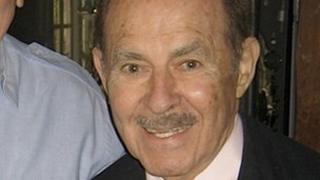 Television producer and executive Henry Colman, whose credits include 1970s show The Love Boat and iconic cop drama Hawaii Five-O, has died aged 89.
Colman also worked on 1960s comedies The Beverly Hillbillies, Green Acres and Lucy.
The Archive of American Television said he died on Wednesday.
He was a producer on Love Boat for its first seven seasons, and wrote several episodes, before moving to work on 1980s drama Hotel.
Colman started his career as a production co-ordinator on the musical show Easy Does It, in the early days of US commercial television.
In 1951, he became assistant to the director for Kraft Television Theatre in New York and later worked on series such as Robert Montgomery Presents and Colgate Comedy Hour.
He helped develop shows including Hawaii Five-O and Lucy in the 1960s and oversaw the pilot of The Many Loves of Dobie Gillis.
Towards the end of his career, Colman interviewed actors, producers and directors including Aaron Spelling and Ernest Borgnine for the Television Academy Foundation's Archive of American Television.
The Television Academy Foundation has now established a memorial fund in Colman's memory.
The Hollywood Reporter said he is survived by his wife, Donna Brainard, and children, Cathy and Richard.