William Turnbull, Scottish artist, dies at the age of 90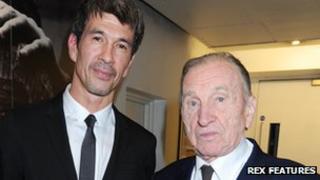 Revered Scottish artist William Turnbull has passed away at the age 90.
The former RAF pilot has works on show in the Tate, the National Galleries of Scotland, Leeds Museum and in Chicago, Los Angeles and Washington.
Tate director Sir Nicholas Serota said: "William Turnbull was an exceptional artist, unusually gifted both as a painter and a sculptor."
Born in Dundee, he served in World War II and later studied at Slade School of Fine Art before relocating to Paris.
It was there from 1948 onwards that he started to move in artistic circles meeting French painter and sculptor Joseph Fernand Henri Leger, Swiss artist Alberto Giacometti and Romanian sculptor Constantin Brancusi, among others.
Sir Nicholas said: "Initially, his distinctive sculpture developed in response to his stay as a young man in post-war Paris.
"It matured through his admiration for the simple forms of ancient and eastern cultures and his abiding search for the essence in any object.
"In this he came close to the purity of Barnett Newman, or to his own contemporaries such as Ellsworth Kelly. However, his sculpture and his painting always had a humanist sensibility that identified it as profoundly European."
Turnbull also taught at the Central School of Arts and Crafts during the 50s and 70s.
His last known solo exhibition was a retrospective of his paintings and sculptures in 2007 at the Waddington Galleries in London.
Secretive artist
Before the war, Turnbull had worked as an illustrator for Dundee-based publisher DC Thomson and taken night classes at Dundee University.
When he returned to London two years later, his first major exhibition was at the Hanover Gallery with fellow Scot Eduardo Paolozzi.
Turnbull was one of the main protagonists in the "independent group", a splinter group within the Institute of Contemporary Arts which became a forum for discussion and debate in London in the early 1950s.
Turnbull married his second wife, the sculptor and printmaker Kim Lim in 1960. She died of cancer aged 59 in 1997, and he is survived by their two sons Alex and Johnny.
In 2011, Alex Turnbull released a documentary called Beyond Time: William Turnbull, co-directed by Pete Stern and narrated by Jude Law, which showed his influence in the art world and unearthed the story of the secretive artist and his reluctant celebrity.