Jesse & Joy and Juanes win top Latin Grammy Awards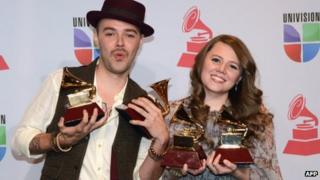 Mexican brother and sister duo Jesse & Joy have picked up four awards at the Latin Grammys in Las Vegas, where their hit Corre! (Run!) won them record and song of the year.
The coveted album of the year award went to Juanes, one of the world's best known Latin stars, for MTV Unplugged.
He said: "What a great joy. Thank God, and all the fans."
Juanes, 40, also performed at the Las Vegas ceremony with legendary guitarist Carlos Santana.
The Colombian rocker now has 19 Latin Grammys to his name, also picking up best long-form video - tying him with reggaeton group Calle 13 for the most awards.
Juanes pulled Juan Luis Guerra - who won his own prize for producing the album - up on stage with him, paying tribute to the Dominican singer songwriter.
"Here's to the maestro Juan Luis Guerra for making this possible," said Juanes.
Guerra, who has swept the Latin Grammys in previous years, led this year's nominations with six nods but missed out on the big awards for En El Cielo No Hay Hospital (In Heaven There Is No Hospital).
However his performance of the track earned him a standing ovation.
Jesse & Joy collected their record of the year prize with the words, "Viva Mexico!".
The duo also won best contemporary pop vocal album for their third studio album Con Quien Se Queda El Perro? (Who Is The Dog Staying With?).
"Thanks to people like Juanes and Juan Luis Guerro who have inspired us. Love and peace," said Jesse.
Mexican pop group 3BallMTY won best new artists, dedicating their Latin Grammy to DJs from their home country.
Their mix of Mexican cumbia and electronic dance music is known as 'tribal guarachero' and the trio have found success on both sides of the US-Mexico border with debut album Intentalo (Try It).
They collaborated on stage with LMFAO's America Sierra and Sky Blu, while Miami-born rapper Pitbull, who sings in both English and Spanish, also performed.
Brazilian singer-songwriter Caetano Veloso, 70, was honoured as the Latin Recording Academy's person of the year.
Veloso was one of the founders of the 1960s musical movement Tropicalia and is still one of Brazil's most popular and innovative artists.
Cuban-American jazz trumpeter Arturo Sandoval won three Latin Grammys, with two each for Puerto Rican reggaeton singer Don Omar and Uruguayan alt-rockers Cuarteto de Nos.
Milly Quezada was also a double winner and she too thanked Guerra who helped produce her album, Aqui estoy yo.