Jeanette Winterson calls for library expansion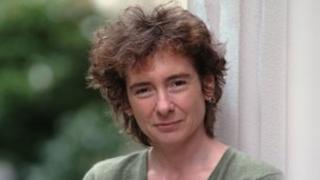 Award-winning author Jeanette Winterson has called for the UK's library network to be expanded.
Speaking at the inaugural Reading Agency Lecture at the British Library, Winterson suggested the cost could be met by Google, Amazon and Starbucks.
The three companies were recently grilled about tax avoidance before a committee of MPs.
The firms have paid little UK corporation tax although they argue that they operate within tax rules.
Winterson said: "Either we stop arguing and agree that libraries are doing their best to reinvent themselves, and that with a bit of help, financial and ideological - they belong to the future, or we let them run down until they disappear.
"Who is going to pay for this new expanding network of libraries?" she asked.
"Libraries cost about £1bn to run right now. Make it £2bn and charge Google, Amazon and Starbucks all that back tax on their profits here."
Winterson also offered the companies in question another option - "do an Andrew Carnegie and build us new kinds of libraries".
Winterson said putting post offices and creches in libraries would increase the amount of people visiting them.
She also suggested taking libraries out of local council leisure budgets and putting them into the national education budget instead.
About 600 libraries across England have reportedly closed as councils face cuts in income.
International bestseller
However a recent report by the Culture, Media and Sport Select Committee denied that figure, quoting Culture Minister Ed Vaizey as saying the estimate was "very wide of the mark" and that a "truer picture would be about a 10th of that".
Other libraries affected by the cuts have reduced opening hours, cut staff or transferred the running of libraries to volunteers.
The Reading Agency helps create reading opportunities for children and adults including the annual Summer Reading Challenge.
Its first lecture was attended by authors including David Nicholls, Julian Barnes, Sarah Waters and Joanna Trollope.
Winterson recently become a professor of creative writing at the University of Manchester.
Her first novel, the semi-autobiographical Oranges Are Not The Only Fruit, was published in 1985 when she was 25.
It went on to become an international bestseller.