Nikki Sixx memoir Heroin Diaries inspires Broadway show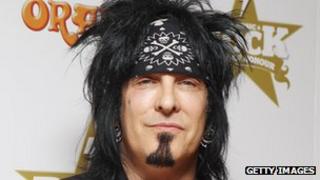 A stage show based on Nikki Sixx's memoir The Heroin Diaries is underway, the Motley Crue bassist has revealed.
The musician and radio presenter took to Twitter to announce the news.
"I've been getting asked this a lot lately," he wrote. "The answer is: Yes, The Heroin Diaries book is being turned into a Broadway play."
The adaptation of his 2007 book, which chronicles his battles with heroin and cocaine addiction, could open as soon as next year.
"We're getting pretty far down the road," Sixx said. "We hope for a late 2013 or early 2014 for it to open."
When The Heroin Diaries: A Year in the Life of a Shattered Rock Star was published, it was accompanied by a soundtrack by Sixx's side-project Sixx:A.M.
Titled The Heroin Diaries Soundtrack, it featured collaborations with vocalist James Michael and Guns N' Roses guitarist DJ Ashba.
The 13 tracks on the record each correspond to one month of his diary, which he kept from 1986 to 1987 and formed the basis for the autobiography.
The memoir charts the recording sessions for Motley Crue's 1987 album Girls, Girls, Girls as well as a near-death experience following a heroin overdose.
Motley Crue are currently writing new material for a 10th studio album, the follow-up to 2008's Saints of Los Angeles.