Chevy Chase leaves US sitcom Community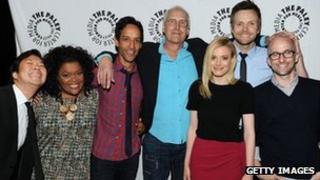 Former Saturday Night Live star Chevy Chase has abruptly left the US sitcom Community and will not appear in some episodes of its upcoming season.
Sony Pictures Television said the 69-year-old was leaving the NBC show by mutual agreement with its producers.
Chase had played the role of Pierce Hawthorne, a bored millionaire who enrols in a community college, since the sitcom started in 2009.
The show's fourth season is scheduled to begin in the US in February.
Chase enjoyed success as a film star in the 1980s in such hit comedies as Caddyshack, Three Amigos! and National Lampoon's Vacation.
His time on Community has been marked by a public feud with Dan Harmon, the show's creator and former executive producer.
Messages Chase left on Harmon's voicemail surfaced online this year, revealing the actor's dissatisfaction with the direction he felt the show was taking.
In one message the actor is heard saying Community was a "mediocre sitcom" and accusing Harmon of not understanding "what it is I do that's funny".