Golden Horse Film Awards: Chinese films do well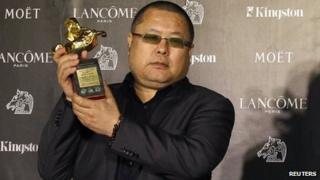 Chinese films, actors and directors have won several awards at the Taipei Golden Horse Film Festival - seen as the Chinese-language Oscars.
A Golden Horse Award is considered by many to be the highest accolade for Chinese-language films.
The 49th awards judged films from Taiwan, Malaysia, Singapore and China, including Hong Kong and Macau.
Analysts say the success is a sign of China's growing prominence in the huge Chinese-language film industry.
Once closed to films from mainland China, the Golden Horse changed its policy in 1996.
Past winners mainly came from Hong Kong and Taiwan.
Hollywood pressure
The awards ceremony was held at the Luodong Cultural Working House in Ilan county, in north-eastern Taiwan.
The coveted best feature film award went to Beijing Blues - a Chinese film that also won awards for best editing and best cinematography.
It examines the struggles of ordinary people, and is told through the encounters of a police detective who hunts down thieves, con artists and illegal hawkers.
The best supporting actress award went to a Chinese performer - Liang Jing.
Previously turning out mainly propaganda movies and historical epics, Chinese filmmakers have in recent years explored wider subjects closer to people's lives, says the BBC's Cindy Sui in Taipei.
But many Chinese films that win awards overseas are banned in China because of content deemed inappropriate or politically sensitive by the censors, she says.
And Chinese productions also face pressure from Hollywood films, which do the best in Chinese cinemas.
Beijing is increasingly recognizing the importance of films as a type of soft power, seeing the powerful influence of Hollywood, adds our correspondent.
But the question is whether it can be hands-off enough to give its talented filmmakers the freedom they need to perhaps produce global box office hits, she adds.
Hong Kong's Johnnie To took home the best director's award, while Hong Kong's Lau Ching Wan won the best actor award for Life Without Principle, and Taiwan's Gwei Lun-Mei won the best actress award for her performance in Gf-Bf (Girlfriend-Boyfriend).
Another Chinese film, Mystery, received the most nominations of the evening jointly along with a Taiwanese film.