Larry Hagman: Dallas to go on without JR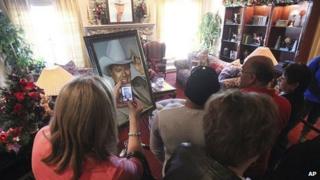 The new series of TV drama Dallas is to be rewritten to reflect the death of actor Larry Hagman, who played scheming oil tycoon JR Ewing.
Hagman, whose role as the stetson-wearing villain made him a global star in the 1980s, died on Friday aged 81.
He was on board when a new version of the show appeared earlier this year.
A statement from UK broadcaster Channel 5 said: "Dallas is midway in production on season two and this sad news will be incorporated into the storyline."
Hagman featured in a promotional video shot on the first day of filming for the new series and posted last month. The next season makes its premiere in the US on the TNT network on 28 January.
The show was resurrected in the summer, more than 20 years after the original ended, with Hagman starring alongside other original actors including Patrick Duffy and Linda Gray.
Gray was at Hagman's side when he passed away on Friday and described him as "my best friend for 35 years".
"He was the Pied Piper of life and brought joy to everyone he knew. He was creative, generous, funny, loving and talented and I will miss him enormously," she said. "He was an original and lived life to the full."
Ken Kercheval, who played Cliff Barnes, said the pair had "a great deal of fun" acting out their on-screen rivalry in the 1980s.
"That sparring back and forth, I think that's what kept the show going for as long as it did because everybody had to wait and see who was going to win and who was going to lose," he told BBC 5 live on Sunday.
"JR was not a nice man. He was terrible. He was quite the opposite of Larry. Those characters are always fun to play and he played it to the hilt. Larry was one of a kind, he really was."
Michael Preece, who directed more than 60 episodes of Dallas and was a friend of Hagman, said the actor was always a pleasure to work with.
"Well, he was perfect," he told the BBC News channel. "Between Patrick Duffy, Linda Gray... they were all like directors.
"Larry did direct a lot of episodes, and you'd stage a scene, they would just stage it for you, he was terrific. And you try to get most of his work before lunch, because he was better in the morning - but he was great to be around, it was like a family."
Another original cast member, Victoria Principal, who played Pam Ewing, said Hagman had been "bigger than life, on-screen and off".
"He is unforgettable, and irreplaceable, to millions of fans around the world, and in the hearts of each of us, who was lucky enough to know and love him," she said.
During its original incarnation between 1978-91, Dallas was one of the CBS network's top-rated programmes and was watched by an estimated 300 million people in 57 countries.
Hagman's forthright biography Hello Darlin' detailed his youthful drug-taking exploits and revealed the extent of his 50-year battle with alcoholism.
Even on the hardworking set of Dallas, he consumed five bottles of champagne a day for years and was finally diagnosed with cirrhosis of the liver in 1992.
Three years later he had a liver transplant and kept a photo of the organ donor above his mirror.
Despite this, Hagman continued to drink secretly until a further life-saving operation in 2003 forced him to stop.