Stone Roses to headline Isle of Wight Festival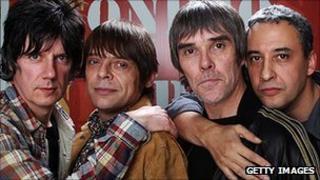 Manchester rock band The Stone Roses are to headline next year's Isle Of Wight Festival.
Organisers say the band's performance on Friday 14 June will be their only UK festival appearance in 2013.
The group, whose hits include Fools Gold and She Bangs The Drum, formed in 1983 and recorded just two albums before breaking up in 1996.
Rock band Bon Jovi will close the festival with a headline slot on Sunday night.
The New Jersey band, whose hits include Living On A Prayer, will be making their debut at the event.
Frontman Jon Bon Jovi said his group was "honoured" to playing.
"The Isle of Wight Festival is legendary and we're excited to join in the long tradition of rock and roll history," he said.
They will join The Stone Roses who reunited in the summer with sell-out shows in Manchester's Heaton Park before embarking on a world tour.
The band - fronted by Ian Brown - have never played at the Isle of Wight Festival before.
Festival promoter John Giddings said: "When you talk about the soundtrack of our lives, The Stone Roses are embedded in it.
"I am so proud to get them to our island - they will kick the weekend off with a bang."
Bands that have previously headlined the three-day event include Muse, Sir Paul McCartney and The Kaiser Chiefs.
This year, heavy rain turned the festival site at Seaclose Park, Newport, into a mud bath, which forced festival-goers to sleep in their cars as traffic became gridlocked.
Bruce Springsteen, Pearl Jam, Tom Petty, Noel Gallagher and Jessie J were among the big-name performers in June.
Further headline names for the 2013 festival are expected to be revealed later in the week.
Tickets go on sale on Wednesday at 0900 GMT.