Fifty Shades of Grey porn 'rip-off' spurs legal action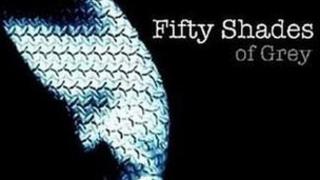 Universal Studios has filed a copyright lawsuit against Los Angeles-based adult film production company Smash Pictures.
It claims material from EL James' best-selling trilogy Fifty Shades of Grey, which has sold more than 60 million copies, was directly lifted.
It said Smash Pictures used dialogue, characters, events, story and style for Fifty Shades of Grey: A XXX Adaptation.
Universal, which has bought the film rights of the trilogy, said it is "a rip-off plain and simple".
"The first XXX adaptation is not a parody, and it does not comment on, criticise, or ridicule the originals," it said.
The lawsuit was filed by both Universal and James' British company, which owns the copyright to the novels first published in 2011.
It seeks unspecified damages, an injunction and aims to recoup any profit from sales of their adaptation.
Two subsequent movies by Smash Pictures were reportedly in production, claims Universal.
Smash Pictures has yet to comment on the legal action.
Universal, which acquired the film rights for a reported $5m (£3.1m) in March, is currently developing the authorised film version of the trilogy with Focus Features.
Kelly Marcel, who wrote science fiction TV series Terra Nova and a forthcoming film Saving Mr Banks - which stars Tom Hanks, Emma Thompson and Colin Farrell, has been enlisted to pen the script for the trio of films.
The casting of EL James' protagonists Christian Grey and Anastasia Steele, is yet to be announced although Drive star Ryan Gosling has been rumoured in the lead role.