Sundance: Ashton Kutcher's Steve Jobs biopic leads premieres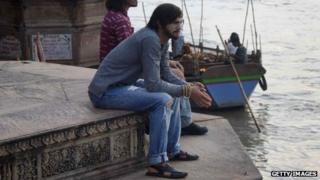 A biopic about the late Apple boss Steve Jobs and the directorial debut from actor Joseph Gordon-Levitt are among the 18 premieres announced for 2013's Sundance Film Festival.
Jobs, starring Ashton Kutcher, charts the entrepreneur's rise from wayward hippie to charismatic inventor and will officially close the indie festival.
Backed by Robert Redford, it runs from 17 to 27 January in Park City, Utah.
Actors James Franco, Steve Carell and Naomi Watts are also due to attend.
Looper star Gordon-Levitt wrote and directed Don Jon's Addiction, about a self-centred porn-addict attempting to reform his ways.
He also stars in the film opposite Scarlett Johansson and Julianne Moore.
The festival unveiled its selections after announcing which films would feature in competition last week.
The premiere line-up also features British director Michael Winterbottom's look at the porn industry, The Look of Love, starring Steve Coogan as British adult magazine publisher Paul Raymond.
Meanwhile Amanda Seyfried takes on the role of porn star Linda Lovelace, famous for the film Deep Throat, opposite James Franco.
Director Jane Campion has reteamed with Holly Hunter, the star of her 1993 Oscar-winner The Piano, for new six-hour mystery Top of the Lake.
It will be shown as a six-part drama on BBC Two early next year.
Also making its debut will be Before Midnight, reuniting director Richard Linklater with Ethan Hawke and Julie Delpy for a third Before Sunrise film, set in Greece nine years on.
Other big-name actors in the line-up include Little Miss Sunshine stars Carell and Toni Collette in The Way, Way Back; Naomi Watts and Robin Wright in Two Mothers and Dakota Fanning and Elizabeth Olsen in Very Good Girls.
Shia LaBeouf and Evan Rachel Wood will feature in The Necessary Death of Charlie Countryman, while Nicole Kidman, Mia Wasikowska and Jacki Weaver star in psychological thriller, Stoker.
Kutcher's role as Apple mastermind Jobs, who died last year, marks a departure from his recent comedy film roles and the sitcom Two and a Half Men, which Sundance director John Cooper says is typical of the festival.
"A lot of these actors are looking to spread out of their comfort zones. It's about doing something different for them," he said.
'Emotional moment'
The 11-strong documentary line-up features films on Wiki leaks and Dick Cheney.
We Steal Secrets: The Story of Wiki leaks is Oscar-winning documentary maker Alex Gibney's take on the website which released classified US government documents.
Meanwhile Foo Fighters star Dave Grohl will debut his first venture behind the camera.
He directs the story of Sound City studios in California, where Grohl's former band Nirvana had recorded their classic 1991 album Nevermind.
Also premiering at Sundance is Sebastian Junger's Which Way Is the Front Line from Here? The Life and Time of Tim Hetherington - a portrait of photographer Hetherington's work in war zones around the world.
The pair worked together on Oscar-nominated film Restrepo, which won the top documentary prize at the 2010 festival, before Hetherington was killed last year covering troubles in Libya.
Festival programming director Trevor Goth said: "For me, it just adds another layer to the human cost of what these guys are trying to expose. I think it's going to be a very emotional moment at the festival."