Julius Caesar: Critics hail all-female production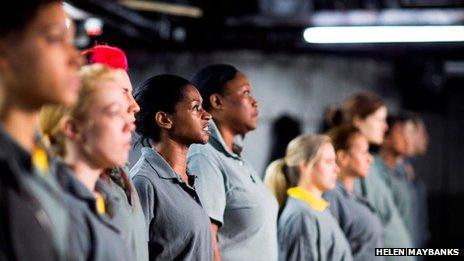 A new all-female version of Julius Caesar set in a women's prison has captivated critics.
Phyllida Lloyd's production at London's Donmar Warehouse sees Shakespeare's political conspiracy drama performed by the female inmates.
Performed on an austere metallic set, the play-within-a-play features CCTV and heavy metal guitars.
The cast includes Frances Barber as Caesar, Harriet Walter as Brutus and Jenny Jules as Cassius.
The production marks Lloyd's return to the stage after directing the film The Iron Lady, which starred Meryl Streep as Margaret Thatcher.
The all-female production follows closely after and all-male version of both Twelfth Night and Richard III, recently transferred to the West End from Shakespeare's Globe.
Michael Billington in The Guardian described Lloyd's Julius Caesar as "witty, liberating and inventive" and said it tapped into the anti-authoritarian instinct that runs through the play.
"It is one thing to have an ingenious concept, another to carry it out. And Lloyd's production proves that female actors can bring a fresh perspective to traditionally male roles," he said.
"It's not just the casting that makes it feel daring," said Henry Hitchings in the Evening Standard. "There's also a crazed, percussive intensity, and the production abounds with weirdness, thuggery and horror."
He added: "Frances Barber is a viciously bullying Caesar, an arbitrary tyrant who in her beret and leather trenchcoat looks like someone you might find in a spy film loitering seedily in a railway arch. Harriet Walter's austere Brutus is a performance of riveting intricacy."
Alexandra Coghlan, writing for The Arts Desk, said that Lloyd's cast "certainly give the lie to any weakly girlish image of the female".
"Strong and vigorous to a (wo)man the large cast riot over the set, wielding words and guns with equally persuasive conviction."
Bunny Christie's set, she observed, almost returns the Donmar space to its warehouse origins.
"Paint peels, institutional clutter lines the corrugated walls, metal walkways circle upwards, and always the CCTV cameras and searchlights observe. In this environment, unsoftened by so much as a cushion or a curtain, Gary Yershon's amplified rock soundtrack echoes and re-echoes, assaulting us as we share this dismal space with the grey-tracksuited ranks of prisoners."
Julius Caesar is at the Donmar Warehouse until 9 February.
Related Internet Links
The BBC is not responsible for the content of external sites.