Justin Bieber's manager: Grammys 'blew it' over snub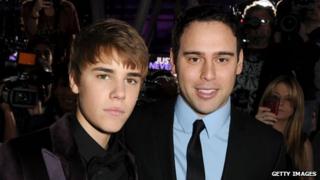 Justin Bieber's manager Scooter Braun has criticised the Grammys after the teen pop star failed to secure any nominations for next year's awards.
Braun took to Twitter to express his disappointment, saying that the Grammy board "blew it on this one".
He told his two million Twitter followers: "I just plain DISAGREE. The kid deserved it."
Eighteen-year-old Bieber recently won three prizes, including artist of the year, at the American Music Awards.
Showcasing a more mature sound, his third album, Believe, was released in June, and sold 374,000 copies in its first week on sale in the US.
However, the singer has not been recognised at all by the Grammy Awards - whose nominations are decided by committees of industry peers.
Braun continued: "The kid delivered. Huge successful album, sold out tour, and won people over.
"This time he deserved to be recognized and I don't really have any kind nice positive things to say about a decision I don't agree with."
Braun also added a message to Bieber's fans, writing: "Looks like we get to stay the underdog a little longer".
They in turn expressed their own frustrations on the social networking site.
One fan wrote: "I'm waiting for [the] Grammys to say: "I'm sorry, we've made a mistake. Apparently @JustinBieber is nominated for album of the year".
Several fans added messages of encouragement.
Michael Jackson "didn't get his first Grammy till he was 22", wrote one, going by the name Bieber's Blonde. "So don't worry about the nominations, you're doing everything right."
Another wrote: "A Grammy doesn't define your talent. Stop for [a] second & look at all the things you have accomplished in 3 years. Proud of you."
Braun's Twitter tirade was not entirely negative. He congratulated his label's other artist Carly Rae Jepsen, who won two nominations for her number one single, Call Me Maybe.
"To all those nominated... You do deserve it. You worked hard and you earned it. Just feel like so did JB."
The Grammy Awards ceremony takes place on 10 February in Los Angeles.
British band Mumford & Sons are among the favourites, with six nominations, alongside Jay-Z, Kanye West, Frank Ocean, Fun and Dan Auerbach from indie rock band The Black Keys.
However British boy band One Direction, who have enjoyed phenomenal success worldwide this year, were also left off the nominations list.