Stephen Baldwin charged with tax evasion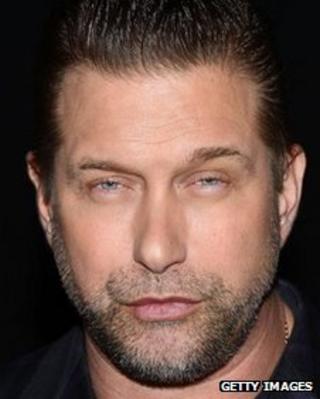 Hollywood actor and former Celebrity Big Brother contestant Stephen Baldwin has been charged with tax evasion.
Mr Baldwin, best known for The Usual Suspects, pleaded not guilty to the charge of failure to file personal income tax returns.
Rockland County District Attorney Thomas Zugibe said Mr Baldwin, 46, owes more than $350,000 (£218,000) in tax and penalties.
Prosecutors said the actor may face up to four years in prison if convicted.
"We cannot afford to allow wealthy residents to break the law by cheating on their taxes," Mr Zugibe said.
"The defendant's repetitive failure to file returns and pay taxes over a period of several years contributes to the sweeping cutbacks and closures in local government and in our schools."
Prosecutors in Rockland County, about 15 miles north west of New York, accuse Mr Baldwin of failing to pay state personal income taxes from 2008 to 2010. Mr Baldwin argues that he had poor financial representation at the time in question.
Mr Baldwin's lawyer, Russell Yankwit, insisted the actor "did not commit any crimes", adding that he was "working with the district attorney's office and the New York State Tax Department to resolve any differences".
Bankruptcy filing
Speaking after his court appearance, Mr Baldwin told Reuters news agency that he had handed over a $100,000 (£62,000) cheque to the state on Thursday.
"My ability to make the payment I did today, is a sign to the state and district attorney, that I'm working to get this resolved," Mr Baldwin said.
Stephen Baldwin is the youngest brother of the Baldwin acting dynasty which includes Alec, William and Daniel.
He filed for bankruptcy in 2009, with legal papers suggesting he owed $1.2m (£748,000) on two mortgages, $1m (£623,000) in taxes and $70,000 (£43,640) on credit cards.
The actor, who is married with two daughters, became a born again Christian following the terror attacks on 11 September 2001.
His early career included roles in acclaimed films such as Last Exit to Brooklyn and Born on the Fourth of July.
More recently he has appeared in a number of TV reality shows including the US version of I'm a Celebrity... Get Me Out of Here in 2009 and Britain's Celebrity Big Brother in 2010.
He currently co-hosts a US radio show with conservative pundit Kevin McCullough.
Speaking to Piers Morgan on US TV on Thursday, his elder brother Alec said that Stephen's mistakes were "no different than millions of other people".
"I don't think he's going to jail," the 30 Rock star said, adding that he was in "a negotiated settlement".