Roger Ebert, US film critic, recovers after hip fracture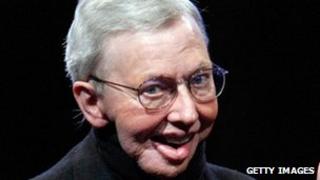 Renowned Chicago film critic Roger Ebert, 70, is recovering in hospital after fracturing his hip.
His wife tweeted that he was "doing well", after jokingly claiming he injured himself attempting some "tricky disco dance moves".
The veteran critic, once deemed "the most powerful pundit in America", tweeted that no surgery was necessary.
Ebert has fought cancer in his thyroid and salivary glands, and lost the ability to speak following surgery.
His wife, Chaz, told the Associated Press her husband is making progress and that ''doctors are making assessments'' as to when he will be released from the hospital.
The Pulitzer Prize-winner has been a film critic at the Chicago Sun-Times since 1967.
In 1975, he teamed up with Gene Siskel, of rival newspaper Chicago Tribune, to launch their movie show, which became famous throughout America for its "thumbs down" and "thumbs up" system of reviewing. Siskel died in 1999.
Ebert continues to blog and tweet regularly. His 2011 memoir, Life Itself, is being adapted into a film produced by Martin Scorsese.