Grandage reveals who snapped up his £10 theatre tickets
By Tim Masters
Entertainment and arts correspondent, BBC News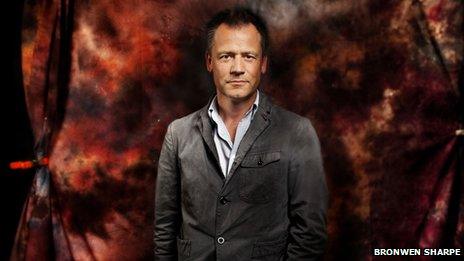 As he raises the curtain on a lengthy West End theatre season, Michael Grandage says Twitter helped him identify who was buying his £10 tickets.
For someone who is about to kick off a 15-month season of plays in the unpredictable commercial environment of the West End, Grandage looks not only remarkably calm, but quietly confident.
"There's always opening night nerves," he admits, as we huddle around a radiator in a chilly corner of the Noel Coward Theatre, where Privates on Parade is in previews before Monday's opening night.
"We had a tricky night last night because one of our actors was quite ill with a stomach bug - but he got through the performance and I don't think many of the audience noticed."
Peter Nichols' camp musical play, which stars Simon Russell Beale as a cross-dressing army captain, was previously staged in 2001 by Grandage at the Donmar Warehouse, where he spent a decade as artistic director.
Privates on Parade is the first play to emerge from Grandage's brand-new roving production company formed with ex-Donmar colleague James Bierman.
"There are very few productions in my career to date that I want to revisit, and this was one of the them," says Grandage.
"When I put the idea to Simon he said that, after playing Stalin and Timon of Athens at the National, the idea of putting a few bits of fruit on his head was rather nice!"
The Michael Grandage Company - as the new venture is called - revealed its debut season in June: Privates on Parade, Peter and Alice (a new work by John Logan), The Cripple of Inishmaan by Martin McDonagh and Shakespeare's A Midsummer Night's Dream and Henry V.
There was starry casting too: Russell Beale, Dame Judi Dench, Ben Whishaw, Daniel Radcliffe, Sheridan Smith, David Walliams and Jude Law.
But what set tongues wagging - and fingers tweeting - was the announcement that 100,000 tickets across the season would be priced at £10.
In practical terms, that meant 200 tickets for each performance - almost a quarter of the house.
Most other tickets are priced at £27.50 and £57.50.
The five-play season develops an idea Grandage and Bierman tried out in 2008 when they took a Donmar season into a commercial West End theatre with subsidised ticket prices to match.
Talking to Grandage, it is clear he is passionate about young people (and those who can't normally afford the theatre) gaining access to West End plays.
He recalls how "it went very mad on Twitter" on the night of this year's £10 ticket announcement.
"Unlike the dry data that comes with the booking though the box office - when you have no idea other than a postcode about who that person is - Twitter lets you know who they are: and it's young people," he says.
"The Twitter experience for me that's been most exciting was a few weeks later when they started to tweet photographs of their tickets that had arrived`- most had bought five shows for £50.
"Our biggest worry was that all those £10 tickets might get snapped up by people who normally pay £57.50 thinking they've got a bargain. We want them to carry on paying £57.50 to subsidise those people who can't afford to get to the theatre."
Grandage recognises that few other commercial producers are able to make such headline-grabbing announcements because they have more limited runs.
"Our colleagues in the West End have been discounting to a degree. If they weren't, then every time I go to a West End theatre I wouldn't see any young people, but I do.
"My view is we're all in it together. One of the wonderful things about working in the subsidised sector was that it was very obvious to me early on that subsidised theatres do not believe they are in competition with each other.
"Now that I'm in the commercial theatre, I see very much the same. If this season can in any way make a difference then that can only be for the good of all of us."
Grandage says that he and Bierman think of the company as a long-term commitment.
"In our heads we've set a company up for the rest of our lives. Once you've made that declaration you can focus on what you want to do."
But how does he feel about becoming a brand?
"Bizarrely, it was a tape measure that brought it home to me," he laughs.
"I saw somebody marking up the stage area in the rehearsal room with a tape measure marked MGC. I thought 'goodness me - even the tape measures are branded!' It's a very weird thing."
Last month, Grandage announced he would direct his first feature film in 2014.
Genius, which will star Colin Firth and Michael Fassbender, is a literary drama based on the relationship between writer Thomas Wolfe and his editor Max Perkins.
The screenplay is by John Logan, whose play Red was staged by Grandage at the Donmar and on Broadway. Logan also co-wrote the latest Bond film Skyfall - directed by Grandage's predecessor at the Donmar, Sam Mendes.
"I've been thinking about trying to make a film for a while," admits Grandage. "The material really appealed to me so we've put time aside to make this film as part of the next step of this new company."
He hints at more projects to come - but definitely no Bond films. Possibly something on the small screen.
"We know what we are doing with theatre. Film is an area that is far less known to us and in order to do that we will surround ourselves with expertise.
"In the longer term? Yes - television projects. Television is a hugely important part of my life, and I would love to be able to contribute to that."
Privates on Parade opens on 10 December and runs until 2 March at the Noel Coward Theatre, London
Related Internet Links
The BBC is not responsible for the content of external sites.