Why are novelists turning to co-authors?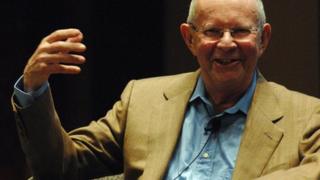 Best-selling author Wilbur Smith signed a six-book deal with publisher HarperCollins last week for a reported £15m. But it was also revealed that some of the books are to be written with the help of "carefully selected co-authors", so how common is it for writers to hire them?
Having sold more than 122 million copies of his books, Wilbur Smith is praised as a master storyteller - yet the 79-year-old seemingly cannot keep up with the ever-constant demand for his titles.
When the BBC News website spoke to him in 2009 to promote his 32nd novel, Assegai, the author said he never had trouble creating ideas.
But he added: "In the later years of my life, I have slowed down the actual amount of writing and creating I do.
"I work on a book one year and I take the next year off. It gives a little more time for the well to refill with water before I go to it again."
To satisfy the appetites of fans (and also publishers), Smith will now produce six new novels - in some instances, up to two a year.
'Donkey work'
How can an author who only writes one book every two years manage this? By hiring co-authors to help write them.
In this instance, Smith is likely to come up with the story ideas and characters, while another writer fleshes it out and finishes it off.
"For the past few years my fans have made it very clear that they would like to read my novels and revisit my family of characters faster than I can write them," Smith said in a statement announcing the deal.
The concept is not too dissimilar to ghostwriting, but while it is widely accepted that ghost writers are commonly used for celebrity-penned biographies or novels, the notion that Smith - as a working author - could hire co-authors has caused some rumblings in the press and among literary purists.
However utilising co-authors is not a new concept. "The notion of having others to produce books has been going on for centuries," says Anna Davis, a literary agent with Curtis Brown.
"The Three Musketeers author Alexander Dumas did it - he had a whole team of authors writing for him all the time. He'd plot things out and have other people do the donkey work."
The practice is also used in other forms of media including the film industry and the art world, where for example it is widely known Damien Hirst uses "apprentices" to produce his works.
US thriller and crime writers James Patterson and Tom Clancy are two of the best-known authors who regularly hire co-authors.
Patterson's use of them has helped him become exceptionally prolific, publishing 14 new titles in 2011-2012 alone. He typically sends 70-90 chapter summaries of around four lines long to his co-writers, who then send back drafts for him to edit.
It has also reaped huge financial rewards - the 65-year-old was the highest-earning author of the past year according to Forbes magazine, earning an estimated $94m (£58.6m).
Buying into the brand
It may come as a surprise to some that such established authors would use co-authors - after all, the co-writer's name is often not on the cover of the book - but does the ordinary book-buying public care?
"I don't think it is an issue for a lot of people - they buy into the brand or genre rather than the author themselves," says Philip Stone from industry magazine The Bookseller.
"As authors get older they don't become as prolific, but there's still an audience who want to buy their books.
"If a publisher has an author this happens to, they'll want to make as much money as possible so they'll bring in a co-author to keep the brand going."
One could argue that HarperCollins is therefore paying £15m for Wilbur Smith "the brand", rather than Wilbur Smith "the author". Indeed, even the publisher's chief executive, Victoria Barnsley, described him as a "truly global brand".
"It is a lot of money, but [Smith] is an establish author," Stone says.
"The co-authors involved will no doubt be getting some of the money quoted. But HarperCollins must be confident for sales in the UK and abroad or it wouldn't be profitable for them."
'Ease back'
So how much of a book is actually written by the author and how much is by the co-author?
"Publishers don't like to reveal that kind of information," Stone says.
Davis agrees there is sensitivity surrounding what is known and what is spoken about co-authors, but adds hiring one is a personal decision for writers. For some, the last thing they would do is hand over the writing to someone else.
Smith himself said he was "willing to make a change to my working methods so the stories in my head can reach the page more frequently".
And what of the writers for hire - why do they do it if they get hardly any glory or recognition?
"Not every co-author wants their name on it as it's not their own work or idea," Davis says.
"Many are not big names, but they also have their own writing careers. They have to find a way to make a living and this kind of work brings in more money to allow them to write their own material."
However Davis sees no problem with writers who adopt the method when reaching their golden years.
"Why should you be churning out a book every year?" she says.
"It's quite punishing and if you've reached a certain stage in your life and career why not ease back? If the standard slips then people won't buy your books anyway."