Matthew Broderick helps Broadway boost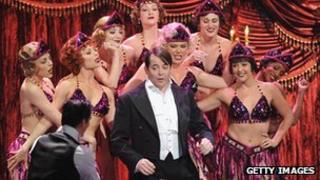 Ten Broadway shows, including Nice Work If You Can Get It starring Matthew Broderick, took more than $1 million (£622,000) last week.
Broderick's musical bounced back with takings of $1.06m (£659,000) after sitting below $900,000 (£560,000) over Thanksgiving.
Overall takings were up around $1.9m (£1.2m) week-on-week across 30 shows.
The spike suggests theatres have recovered after superstorm Sandy in October, which resulted in closures.
Collectively, all the shows currently on Broadway amassed $23.8m (£14.8m) in the week ending 9 December.
The attendance of 232,101 patrons was also up from 220,611 the previous week.
A Christmas Story and and family friendly production Annie also joined the millionaires' club, grossing $1.1m (£684,000) and $1.07m (£665,000) respectively.
Glengarry Glen Ross, starring Al Pacino, was the highest earning non-musical taking $1.2m (£746,000).
Other shows to take more than $1m include Jersey Boys, Once, Spider-Man Turn Off The Dark, The Lion King and Wicked.
Elsewhere, after receiving negative reviews The Anarchist had its penultimate week, earning $335,000 (£208,000), while sales of tickets to Scandalous fell in the days before its run finished on 9 December to $177,000 (£110,000).
The Heiress, starring Jessica Chastain who is being tipped for an Oscar nomination for her role in the film Zero Dark Thirty, was down marginally but remains one of the highest earning plays taking $534,000 (£332,000).
While Katie Holmes' Dead Accounts took $437,000 (£272,000) - slightly more than last week, but is only playing to 59% capacity.