Only Fools and Horses US remake axed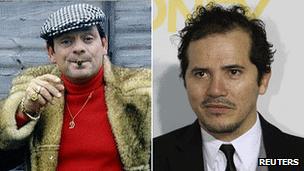 The US remake of BBC comedy Only Fools and Horses has been shelved, according to industry reports.
John Leguizamo had been cast in role of Del Boy - originally played by Sir David Jason - with Dustin Ybarra as Rodney and Christopher Lloyd as their ageing grandfather.
It is the second failed attempt to bring the show to air.
The show was first given the green light for a pilot in January, but ABC did not pick it up in its round of commissioning.
However ABC chief Paul Lee, who is said to be a fan of the original BBC series, ordered a second attempt.
Despite a second pilot, the network has decided not to go through with a series.
Both pilots were written by Scrubs writers Steven Cragg and Brian Bradley.
In an interview in February, Sir David Jason told the BBC he doubted a US version of the show would be as successful as the original.
"They can do brilliant comedy [in America] but I don't see that they can bring off Fools and Horses," he said.
"I don't see that it will travel across the pond."
The actor starred in the BBC One comedy from 1981 to 2003.
Related Internet Links
The BBC is not responsible for the content of external sites.