Britney Spears is highest paid female musician of 2012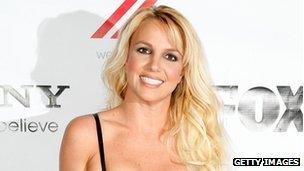 Pop star Britney Spears has beaten country-pop singer Taylor Swift to become the highest-earning female musician of 2012, according to Forbes.
Although she didn't release any new music or go on tour this year, the 31-year-old made an estimated $58m (£36m) in the 12 months to May 2012.
In second place, Swift brought in around $57m thanks to her tour - which made more than $1m (£62,000) a night.
Lady Gaga, 2011's top earner, slipped to fourth with $52m (£32m).
A substantial part of Spears' income came from her stint as a judge on US X Factor, which was reportedly worth $15m (£9.3m).
Forbes magazine said the bulk of her earnings came from her 2011 album, Femme Fatale, which went Platinum in the US, and receipts from her world tour, which ran between June and December 2011.
The pop star also earned a substantial amount from her popular perfume line with Elizabeth Arden and her endorsement deals.
However, the star does not have personal control of her finances, which have been managed by her father since 2008.
Jamie Spears was appointed the singer's conservator after she underwent psychiatric treatment in hospital, following a very public period of personal turmoil. He now shares the conservatorship with her fiance, Jason Trawick, although he has no say in her finances.
Forbes compiled the list after estimating income before tax, based on record sales, touring information merchandise sales and interviews with concert promoters, solicitors and managers.
Elsewhere in the list, 24-year-old R&B singer Rihanna moved up two places to number three, earning an estimated $53m from her Loud tour, hits such as We Found Love as well as a perfume line and lucrative endorsements.
Rounding off the top five was Katy Perry, 28, with an estimated $45m in earnings, helped by her California Dreams Tour which grossed nearly $60m, according to Forbes.
"What all these girls have in common is that they have smashes under their belts," marketing guru Steve Stoute told Forbes.
"Gaga [is] a pop culture icon because of her sensibilities. I think Rihanna has found the very thin space of being the alter ego of the good girl.
Along with Katy Perry, "they've completely dominated the charts in the past three years," he added.
Madonna, 54, scraped into the list in ninth place bringing in an estimated $30 million, which did not account for profits from her latest tour as it fell outside the time period Forbes considered for the ranking.
Despite their huge incomes, only eight of the top-earning women featured in Forbes list of the 25 best-paid musicians, partly due to family considerations, and partly because of how they are perceived within the industry as they get older.
Hip-hop mogul Dr Dre topped the overall list, earning $100 million (£62.3m), largely thanks to his lucrative range of high-end headphones.
Spears came seventh, and was the only woman to feature in the top 10.
Related Internet Links
The BBC is not responsible for the content of external sites.