MasterChef crowns joint winners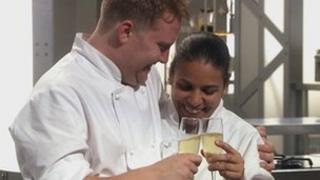 Two chefs have shared the title in the final of this year's MasterChef: The Professionals, after judges were unable to choose between them.
Keri Moss, 41 and Anton Piotrowski, 30, became the first joint winners in the history of the competition.
"It's absolutely amazing; to share the title with someone that's so talented and so amazing is unreal," said Piotrowski, who runs a pub in Devon.
London-based caterer Moss said: "Joint winners is just fantastic.
"We've had a good run together, Anton is awesome," said the cook, whose winning menu included Chinese Five Spiced Duck Breast and a Green Olive and Pistachio Cake.
She added: "Today has surpassed anything that I have ever achieved in my career, in my whole life. This is just massive."
The professionals spin-off, which pits working chefs against one another, is now in its fifth year.
'Magic'
After four weeks of heats, the two eventual winners battled it out with fellow finalist Oli Boon, 23, during an intense week of competition that saw them cook a three-course dinner for more than 30 Michelin-starred chefs, and work in the kitchens of Heston Blumenthal's world-renowned Fat Duck restaurant.
Piotrowski's winning menu included squid ink and malt vinegar crumble and cocoa-marinated venison.
"This has probably been one of the hardest, tightest finals that I have ever seen," said judge Michel Roux Jr.
"It was just impossible to split them - their talents have been matched plate for plate for the past several challenges and it was truly impossible to award one the title over the other."
Both he and fellow judge Gregg Wallace deemed the winning finalists "exceptional".
"Anton has got the knowledge, he's got the skills in abundance, he's got the passion, the drive - every dish that Anton cooks is original, it's got a twist, it's got his character there," said Roux.
"I don't know what magic is running through Keri's fingertips, I don't know who poured the passion into her soul, but you can feel it and you can taste it on dish after dish," said Wallace.
"I can't ever remember a decision this tight."