Martha Kearney among Man Booker Prize judges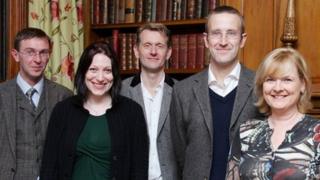 BBC broadcaster Martha Kearney is among the judges for the 2013 Man Booker Prize for Fiction.
A former chair of the Orange Prize, Kearney is joined on the panel by biographer and critic Robert Douglas-Fairhurst; author, broadcaster and classicist Natalie Haynes, and writer and critic Stuart Kelly.
The judging panel is chaired by award-winning author Robert Macfarlane.
Next year marks the 45th year of the £50,000 book prize, launched in 1969.
"'The first books are in, and the reading begins: The 2013 Man Booker jury starts its work this week," Macfarlane said.
"We are all looking forward to the 10 months, 140 novels and many meetings and conversations that lie ahead of us, as we search for the very best of contemporary fiction."
Long reading list
Between them, the judges will read more than 100 novels submitted by UK publishers.
Robert Douglas-Fairhurst is the author of Becoming Dickens and he has also acted as the historical consultant on BBC productions of Jane Eyre, Emma and Great Expectations.
Natalie Haynes' most recent book was The Ancient Guide to Modern Life. She is a regular guest for BBC Two's Review Show and was a judge for the 2012 Orange Prize for Fiction.
Martha Kearney presents The World At One on Radio 4 and The Review Show on BBC Two. She presented Woman's Hour on Radio 4 from 1998 to 2007.
Stuart Kelly is the author of The Book Of Lost Books: An Incomplete Guide To All The Books You'll Never Read and Scott-Land: The Man Who Invented A Nation. He was literary editor of Scotland on Sunday and a guest selector at the 2010 Edinburgh International Book Festival.
The 12 or 13 longlisted books will be announced on 23 July 2013, with the shortlist of six titles announced on 10 September.
The winner of the 2013 Man Booker Prize for Fiction will be announced on 15 October at an awards ceremony at London's Guildhall.
Hilary Mantel won the 2012 Booker Prize for Bring Up the Bodies, making her the first woman and first Briton to win the coveted award twice.