Billy Crystal: Back on the big screen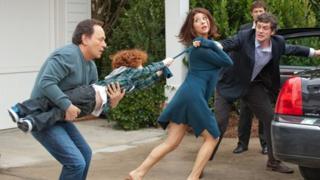 It has been 10 years since Billy Crystal appeared on-screen in a major Hollywood movie.
The star of When Harry Met Sally and City Slickers has been busy with his one-man show, and voicing animated characters in Monsters, Inc and Howl's Moving Castle.
He also hosted the 2011 Oscars (his ninth), stepping in at the last minute after Eddie Murphy pulled out.
But he's back in front of the camera this Christmas, starring alongside Bette Midler in family comedy Parental Guidance.
Inspired by Crystal's own experiences, they play an elderly couple entrusted with the care of their grandchildren - with disastrous results.
The 64-year-old talked to the BBC about his break, the forthcoming prequel to Monsters, Inc, and his tips for hosting the Oscars.
What's the story behind Parental Guidance?
It started out with my own granddaughters. We babysat for them, the two girls, for six days while my daughter tried to have a holiday. And on the seventh day, I rested…
But I thought: "Alright, here's an idea for a movie." And that's how it began, with a very personal story about old school grandparents trying to babysit for their new-age kids.
Are you as hopeless at looking after grandchildren as your character in the movie?
All he's trying to do is please them and get a smile out of them. But he also tries to win them over by bribing them and doing everything his daughter wouldn't do. So, in that way, yes, the film depicts everything I did!
There's a line in the film, where your daughter (Marisa Tomei) tells the children - "Grandad likes to tell jokes. You won't get them, so just pretend to laugh." Is that lifted from real life?
Oh, I can't speak for that. You'd have to ask my daughter.
So which elements were based on you?
There's a moment in the film where I say to one of the kids, "Why don't you draw inside of the lines in your colouring book?" In real life that played out exactly the way it did in the film. My daughter said, "we don't use the lines" and I couldn't understand. That's why they have them, isn't it?
The film starts off as a comedy, but it gets quite sentimental. Particularly in the scenes with Marisa.
Well, good. The movie can bear the weight of that. Those are my favourite kind of movies. Even though I wrote parts of it, I get a lump in my throat.
It was wonderful to act with Marisa, too. She has a very different tempo than either Bette or I do, and getting that - her jolt of realism and charm - into the movie, was really important to us.
There's a buzz in Hollywood about getting older audiences into cinemas. Was that a factor in getting Parental Guidance made?
I think so. Mature audiences feel they're being ignored, somehow. They think everything is for the younger market, so they don't go to movies. But if you give them something smart and funny, they'll come. In America alone, there are 77 million people who are 60 or above, so that's a huge audience that wants to be entertained.
And they can fill cinemas during the afternoon, which is attractive for cinema owners.
Yeah, and it's half price.
Maybe that's why the industry isn't so keen.
Haha! Maybe.
You've had 10 years away from the screen. What were you up to?
I spent the last bunch of time developing and appearing in my one-man show, 700 Sundays, which did great in New York, on Broadway and in Australia. But every time I was about to bring it here to the UK, Fox would say, "but you can't, we're going to make Parental Guidance now". So that's where I've been - trying to get this movie made.
You produced the film as well. How do you split those roles?
Sometimes I have to take myself aside and talk to me. "Listen, you're supposed to learn your lines, you're costing us a lot of money."
Monsters University is coming out in June. Has Pixar let you see any of it yet?
I've seen the first 30 to 40 minutes of it and it's absolutely miraculously brilliant funny.
It's a prequel, so Mike and Sully are younger. We're 17 or 18 years old, going to university together to learn how to become scarers. It's the perfect Pixar movie. Mike, for me, is maybe the favourite character I've ever played, because I get to do so many crazy, different things with him.
I love the inventive minds at Pixar that let me and John [Goodman] play and improvise . It's a great joy to work with him, because they let us do it together, which is rare.
How did that come about? Voice-overs are usually recorded in isolation, aren't they?
It happened on Monsters, Inc. I did my first day and John's stuff was already recorded. I said: 'Well, this isn't good. There's no spontaneity. Can't we do something together?" And it was the first time it happened that Pixar would let two actors work together.
What's their objection?
It's harder to separate the two voices. They like what they call "clean tracks". But the key with these two characters is that they play off each other.
Playing Mike must give you great currency with your own grandkids.
Well, the first time they saw me do anything was Monsters, Inc. And then for six months I was grandpa Mike and had to talk like him!
The Oscars are coming up in February. Have you started preparing any material in case Seth McFarlane pulls out as host?
No, I'm done. Good luck to him! There are some really good movies this year. The one I really liked was The Impossible - it's about a family that gets swept away by a tsunami in the Philippines. It's not a lot of laughs, but it's really wonderful. I hope it gets nominated.
What's your top tip for any prospective host?
After your monologue, change to sneakers.
Is there a trick to writing the gags?
It's a long night, so just give yourself options. The most important thing is to look like you want to be there. Every time I did it, I had a good time. So, in that way, that's a big thing. Have fun. It's a special night.
Parental Guidance is released in the UK on 26 December, 2012