Stars protest at Newcastle council arts cuts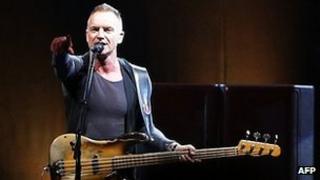 Stars including Sting, Bryan Ferry and Alun Armstrong have signed a letter protesting at potentially "disastrous" plans by Newcastle City Council to scrap its entire arts budget.
The council will cut grants to theatres and other venues as part of a wider plan to save £90m and cut 1,300 jobs.
The letter said it was "a short-sighted attack on the arts and the idea that culture should be available to all".
The council said it faces "unpalatable decisions" but no venues should close.
The open letter was signed by "artists with strong connections to Newcastle and the north east", including sculptor Antony Gormley, the Pet Shop Boys singer Neil Tennant, Billy Elliott writer Lee Hall and actor Kevin Whately.
They said the cuts would "decimate the cultural life of the city" and be "economically disastrous to both the arts organisations themselves and to hundreds of businesses who benefit from their success".
"Generations of young people will be denied access to the opportunities we were given, and without the council's support the arts will simply become a pursuit for the most wealthy," they said.
"If these organisations go under, they will never be replaced. Whilst we must all recognise these are difficult times it is precisely now that we are relying on you to protect these organisations for everyone.
"The cost of losing them is simply too huge and totally unnecessary."
The cultural venues that risk losing their council funding include the Theatre Royal, Live Theatre, Northern Stage, Seven Stories children's book centre and Dance City.
The council has said it must find ways to cut one third of its entire budget over the next three years.
A spokesman said the council knew some savings would be "counterproductive and, in many cases, a false economy but the council can only spend the resources that it has".
"Although the total amount the city council contributes to the arts sector is significant, it is much smaller to individual bodies - between 2.5% and 15% of the amount that they receive," a statement said.
"We would therefore not expect that our reductions alone would result in the closure of an arts organisation."
'Overlooked'
As well as its plans for the arts, the council is planning to make cuts to the social work budget, the number of looked-after children and its youth service. It also plans to close two respite care homes.
Nicola Vose, who is leading a campaign to save the Cheviot View and Castle Dene respite homes, said causes like theirs were being overlooked.
"We are a small group and, even united, we don't have the same volume of voice that the arts sector has or the likes of City Hall because not everybody uses these units," she said.
Ms Vose has disabled children aged 12 and 18, who use the units. "They are absolutely vital," she said.
"We've seen horror stories in the newspapers. We know what happens when families don't get the correct support, and to be perfectly frank, families will end up in such a terrible state in reaching crisis point that it could be a matter of life and death for some of these families."