BBC takes Teletubbies, TV news and Doctor Who to Burma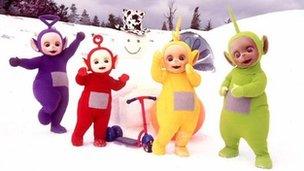 The Teletubbies, 24-hour news and Doctor Who are being introduced to Burma as the BBC launches three pay-TV channels there next January.
The formerly isolated nation has begun to improve relations with the West by releasing political prisoner Aung San Suu Kyi and holding by-elections.
UK Prime Minister David Cameron went to Burma in April, becoming the first Western leader to visit there since the success of pro-democracy leader Ms Suu Kyi in parliamentary by-elections.
He is also the first UK prime minister to visit Burma since it gained independence in 1948.
He said economic sanctions against the nation should be suspended in recognition of the changes taking place there.
Last year, Ms Suu Kyi revealed DJ Dave Lee Travis's show on the World Service had been a lifeline when she was under house arrest.
CBeebies is aimed at pre-school children, offering interactive and educational shows, while BBC World News is the BBC's commercially funded international 24-hour news and information channel.
BBC Entertainment features drama, light entertainment and comedy. It also exclusively broadcasts celebrity chat show The Graham Norton Show, screening it two weeks after it has been aired in the UK.
The BBC has provided news and information to Burma, via radio on the BBC World Service, by broadcasting on BBC Burmese since 1940.
Peter Horrocks, director of global news, said: "For many years, the BBC has delivered accurate, impartial international radio services to the Burmese people, serving as a vital lifeline service to Aung San Suu Kyi and those across the country.
"I'm so pleased that the BBC is now able to take the next step forward with the country to offer that same impartial news via television as well. It is a great sign of progress for Burma and I'm honoured for the BBC to play a role in opening the country up to the world."
The launch of the TV channels plus the World Service programming will potentially reach about 250,000 homes in Burma, the corporation said.