Daniel Day-Lewis to receive Santa Barbara Festival honour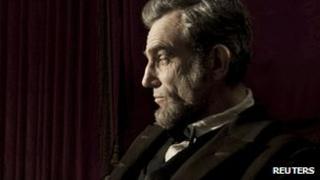 Double Oscar winner Daniel Day-Lewis is to be honoured at the Santa Barbara International Film Festival in January.
The star will receive the Montecito Award, given to an actor "who has given a series of classic and standout performances" throughout their career.
Day-Lewis's films include My Left Foot, in which he played a man born with cerebral palsy, and Gangs Of New York.
Past recipients include Julianne Moore, Kate Winslet, Javier Bardem, Geoffrey Rush and Annette Bening.
Day-Lewis has been tipped to receive another Oscar nomination next month for his role in Lincoln.
The Anglo-Irish actor plays America's 16th President in the historical drama, directed by Stephen Spielberg.
Set during Lincoln's final months in office, the film follows his mission to abolish slavery.
"Daniel Day-Lewis continues to inspire the industry and the public by his approach to tackling the most complex of characters and delivering brilliant performances time after time," said Roger Durling, executive director of the Santa Barbara festival.
"He is indicative of what the Montecito Award represents and we are thrilled to be presenting this to him this year."
The 55-year-old won his first Oscar in 1990 for his performance in My Left Foot and picked up a second in 2008 for There Will Be Blood, in which he played a ruthless oil prospector at the turn of the 20th Century.
He was also nominated in 1994 for In The Name of the Father and 2003's Gangs of New York.
The tribute will take place on 26 January.
Ben Affleck will also be recognised at the gala with the Modern Master award - the festival's highest honour.
Hunger Games and Silver Linings Playbook actress Jennifer Lawrence will be presented with the outstanding performer of the year prize.